31 Jul

The ADV groms have landed!

After a minor misunderstanding with the freight company about when and where, we were finally able to retrieve our babies yesterday afternoon from one of their warehouses in Elizabeth New York.

It was a lot of fun unpacking the Groms from their shipping crate. Thankfully no damage at all, and everything was all still in there. We unpacked them on the floor of the warehouse, reassembled a few bits and packed the saddle bags. While Simon was making sure handlebars were on and tires were pumped, I grabbed the fuel bladders and got a ride with one of the Mainfreight guys to the nearest gas station. Turns out in New Jersey you aren't allowed to pump your own fuel, and although the pump jockeys initially hesitated about filling up the fuel bladders, they did so in the end. We didn't take many photos in the warehouse as we rushing to get things done so that we could make it to the bike shop before closing.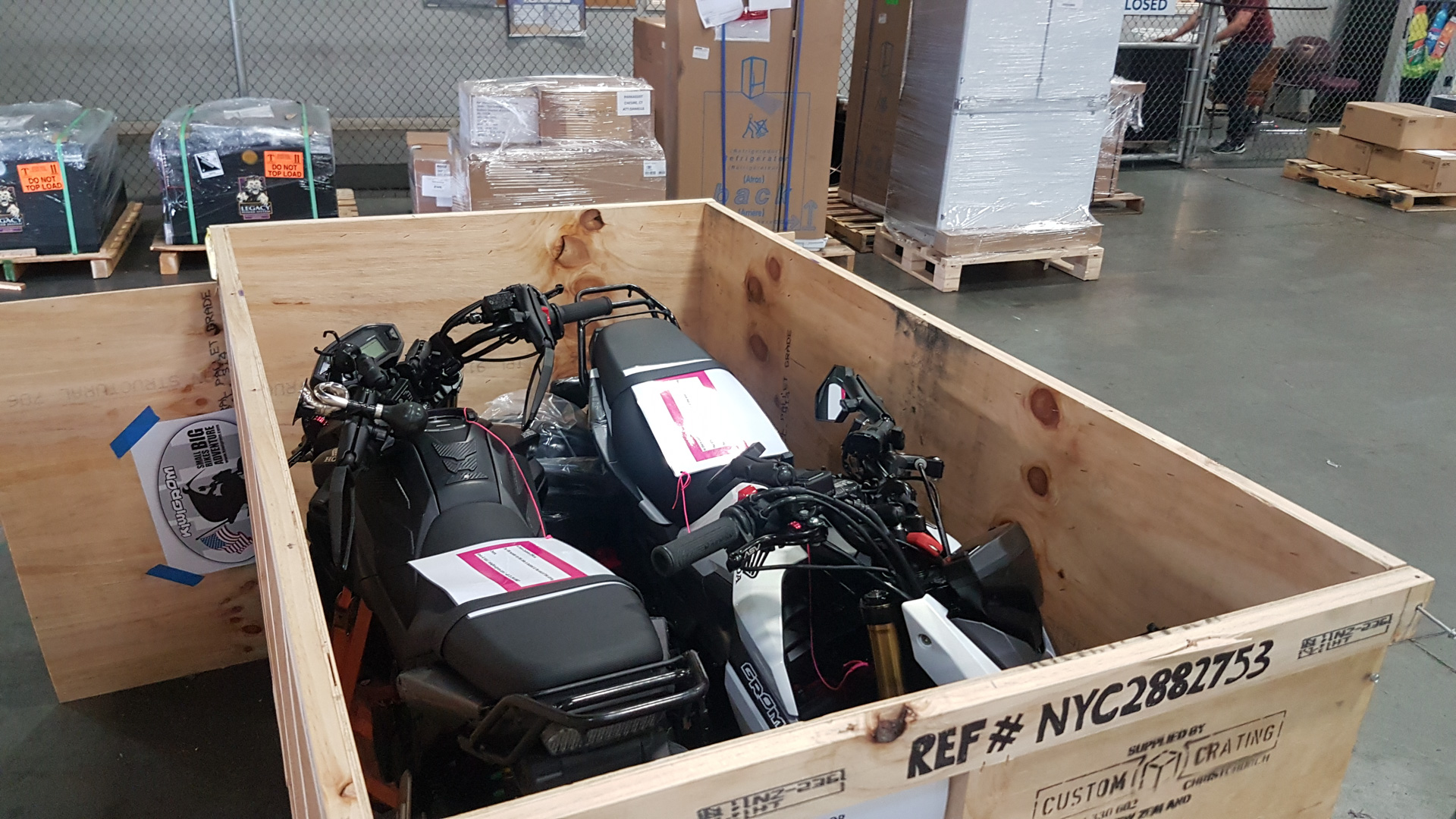 After giving the Groms their first taste of American Gasoline, we navigated ourselves relatively successfully all the way across town to our Airbnb in Queens, dumped all the gear, strapped our tires on the back and managed to get to New York Honda Yamaha just before they closed. This was the bike shop that happened to work out the cheapest and most convenient for us.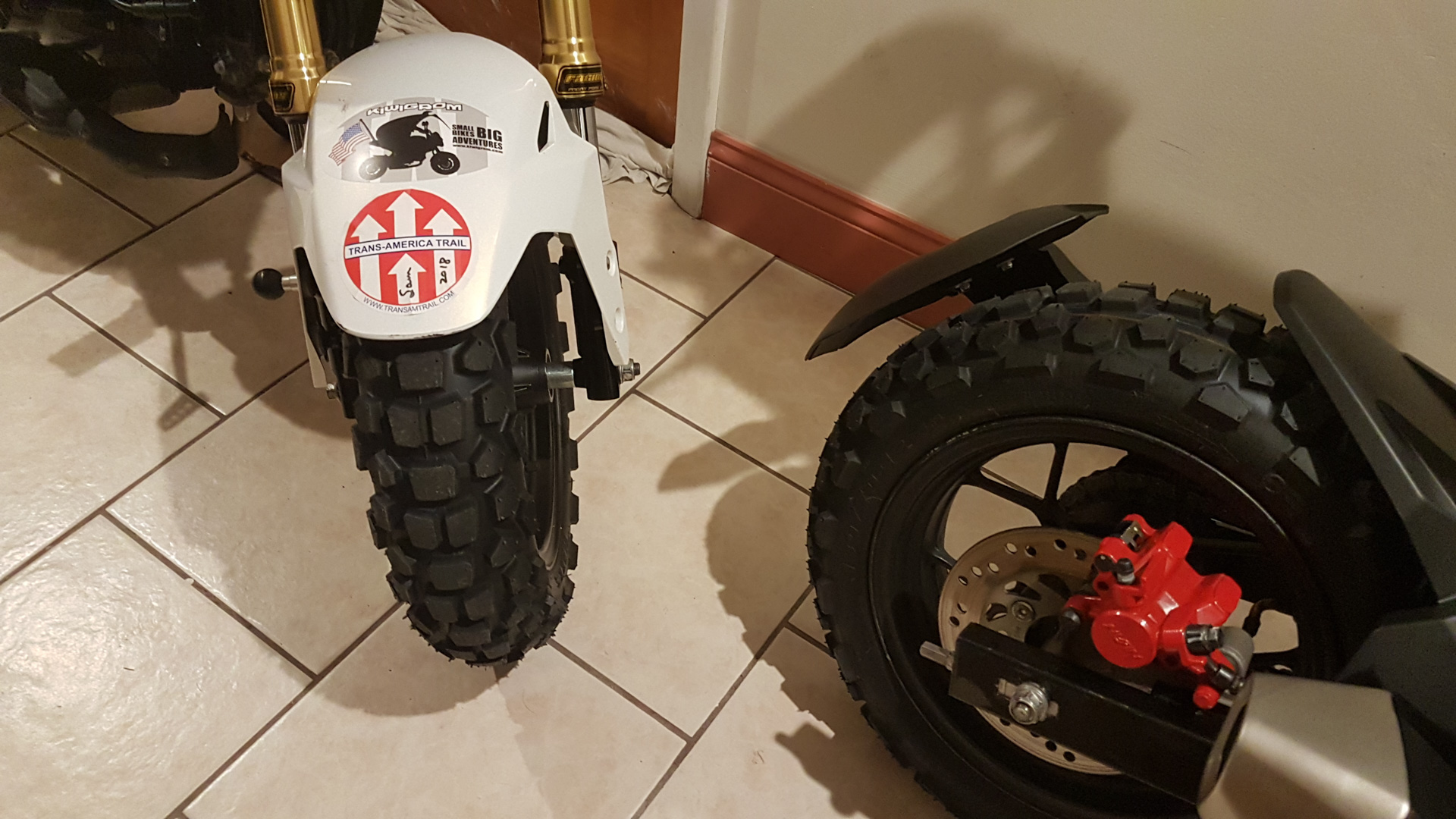 I must admit that I had been pooing myself slightly in anticipating of having to ride in NYC traffic on the wrong side of the road so soon after having gotten the bikes. Simon had been reassuring me constantly that it was going to be OK, and as usual he was right. It was surprisingly fine, no one flipped us off, we stayed on the right side of the road, and the 5 lanes of traffic was not as scary as I thought it would be. I think it helped immensely that the traffic moved relatively slowly.
We did had a minor oops at the toll bridge which was entirely my fault. Simon had the correct cash ready before hand all ready to go in his tank bag, but I messed up the plan when I stole his money to pay for gas, so we were 2 dollars short at the toll. Luckily they took pity on us or rather they didn't want us holding up traffic any longer while we dug around looking for the 2 extra dollars that was ferreted away in one of my many pockets.
The Groms stayed overnight at the bike shop and we were told they would probably only be ready in the afternoon, so we got to play tourist for the morning. Only two items were on our New York sightseeing agenda for today; the 9/11 memorial and the Intrepid Sea, Air and Space Museum.
The 9/11 memorial is one of the most elegant and tasteful memorials we have visited.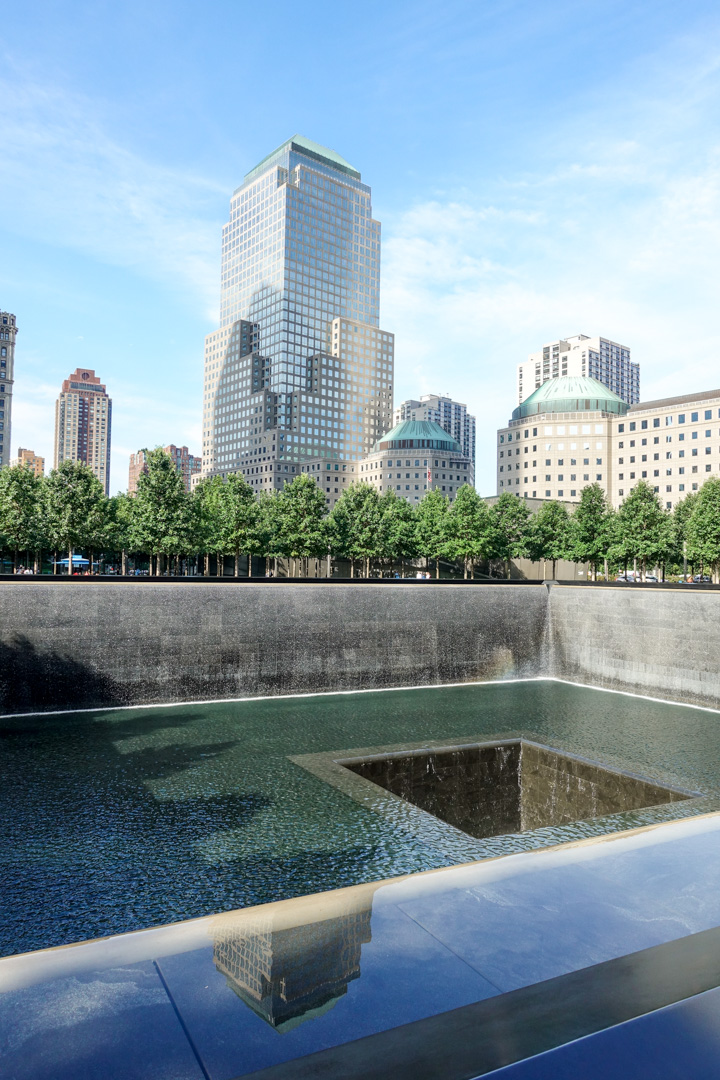 The intrepid museum wasn't originally on our NYC to do list, but once we realized that they had the Enterprise prototype space shuttle, the concord and a blackbird on board, Simon was in geek heaven and we had to visit.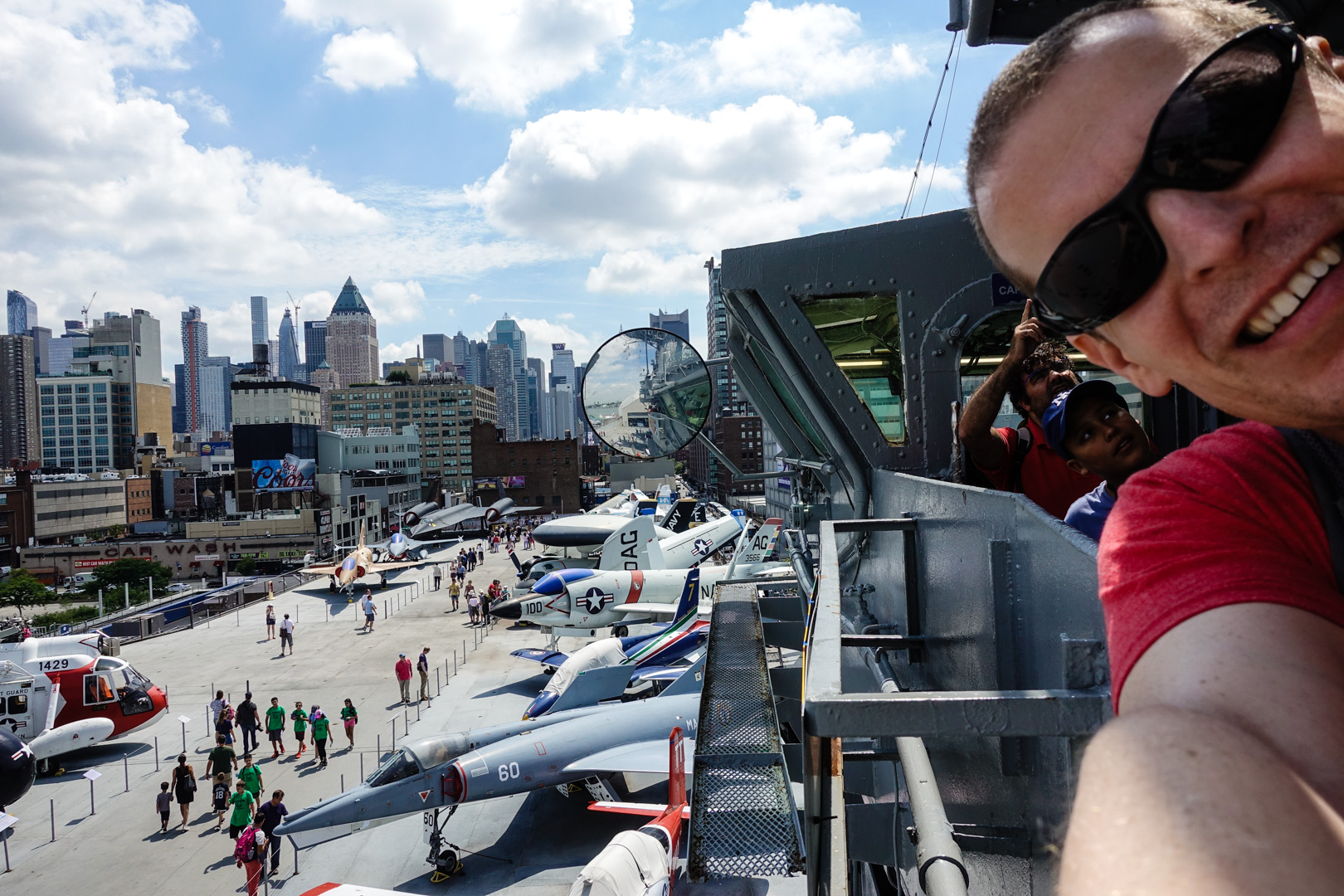 After exhausting ourselves in NYC, we headed back and picked up the Groms with their new knobbies (Maxis M6024) fitted. A different riding feel to the the Mitas tyres, but it's hard to tell really as there was so much else going on.
We did not like the idea of leaving them outside overnight after reading all sorts of horror stories, so we managed to squeez them into our Airbnb (helps to be small sometimes).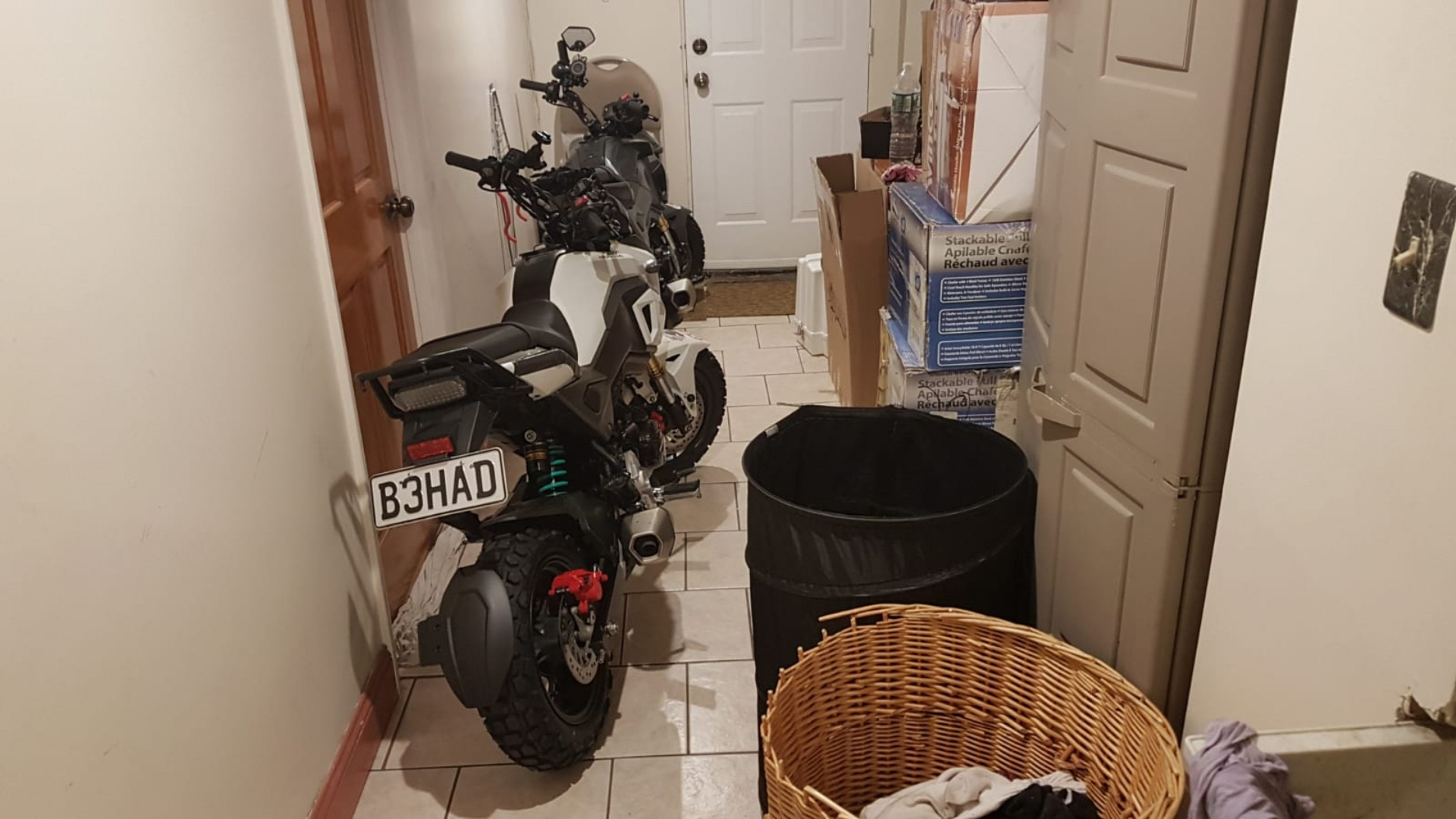 Its been a bit of a logistical challenge and it would have been nice to have just gotten on the bikes and gone (damn that lost set of tires). But it has all worked out. Thank goodness for Google maps and Uber.
Tomorrow we are heading off to Flag Plaza at Liberty State Park where for us our big trip will officially start.
View this post and comments on ADV Rider

---