24 Dec

Southern Epicer: DAY 2: Ranfurly to Ranfurly – 113km

Aaaand we are back at Ranfurly. It took us about 7 hours to complete a mere 113km(70mi) and maybe 50 ish (30 is miles) of those were on sealed roads. That gives a hint at how hard today was.

We left Ranfurly this morning thinking we would do the loop around Mt Buster and then head onwards. Felt a little disorganized this am. The normal second day of a trip pfaffing. How does everything seem to expand and not pack the same way on the second day?

Headed back towards Naseby and turned onto the Mt Buster track. It was easy 4×4 track until it wasn't. Lots of steep rocky climbs. The kind where you need to keep up your momentum and make sure you avoid the larger rocks. Then it wound its way down to a valley with a couple of shallow river crossings.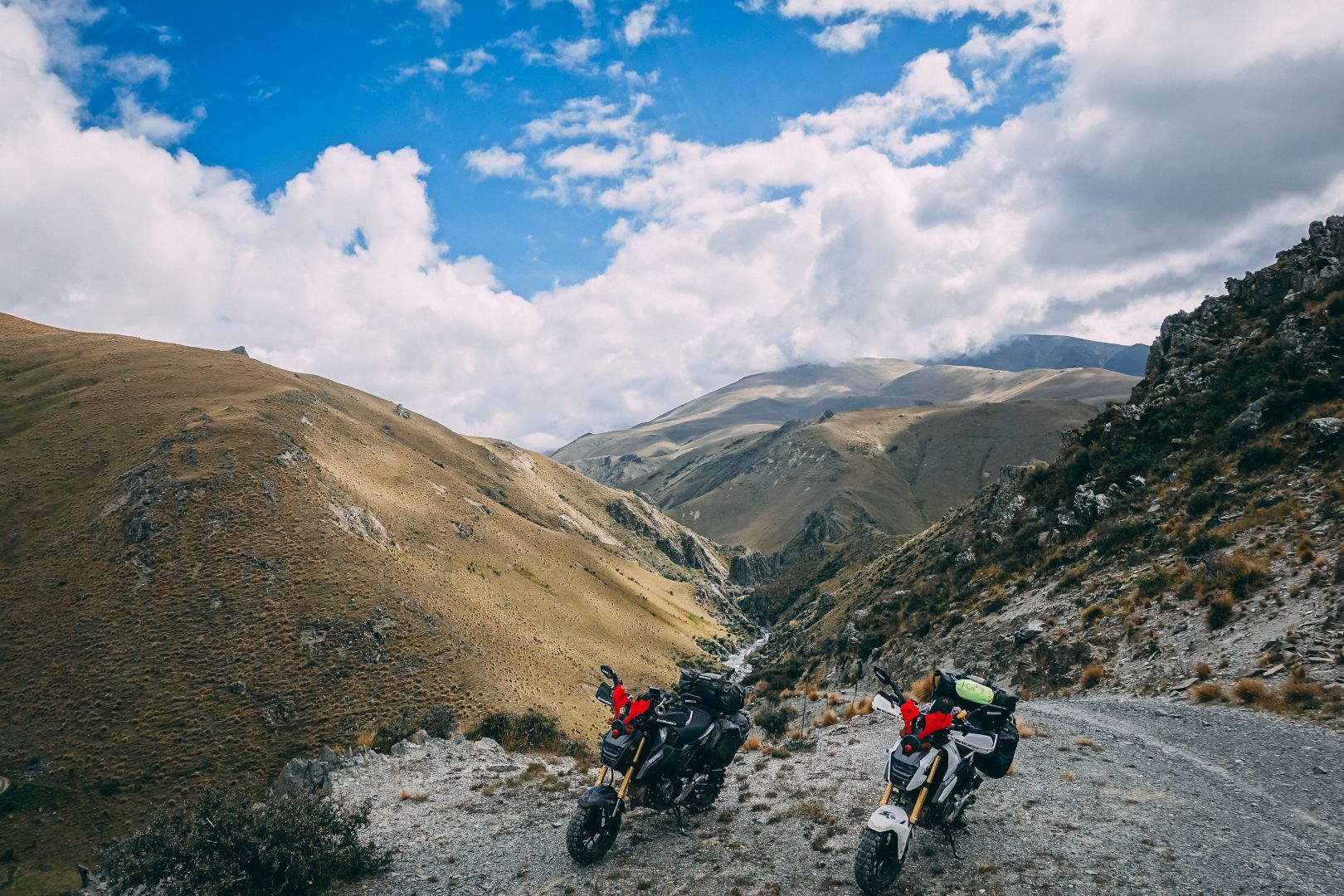 I detest getting my feet wet and so does Simon. On the third or fourth crossing which Simon made it through cleanly, I, of course, got stuck… on a rock…in the middle of the river…just where the water was knee height. Waterproof Goretex boots are great until you fill them with icy cold water from the top. Of course, Simon then had to walk back to help me off my rock and got similarly waterlogged. I will be hearing about this for the rest of the trip. Of course, this was not to be the end of our watery adventures.
It was close to midday when we reached the Otematata River, the last river crossing. It wasn't terribly wide or deep. Simon even went for a recce across it. What we failed to recognise was just how fast it was flowing in the middle and what that does when you try to ride across it. Ideally, we would have tried to cross it at an angle with the flow, but the available line to avoid the boulders and the deeper holes, didn't allow for that. Simon's poor grom got pushed over and the engine cut out. I think the Enduristan saddle bags acted like water wings as thankfully it didn't get completely submerged and the water didn't come above the air intake. We managed to manhandle it the rest of the way across after taking the tank bag and top bag off.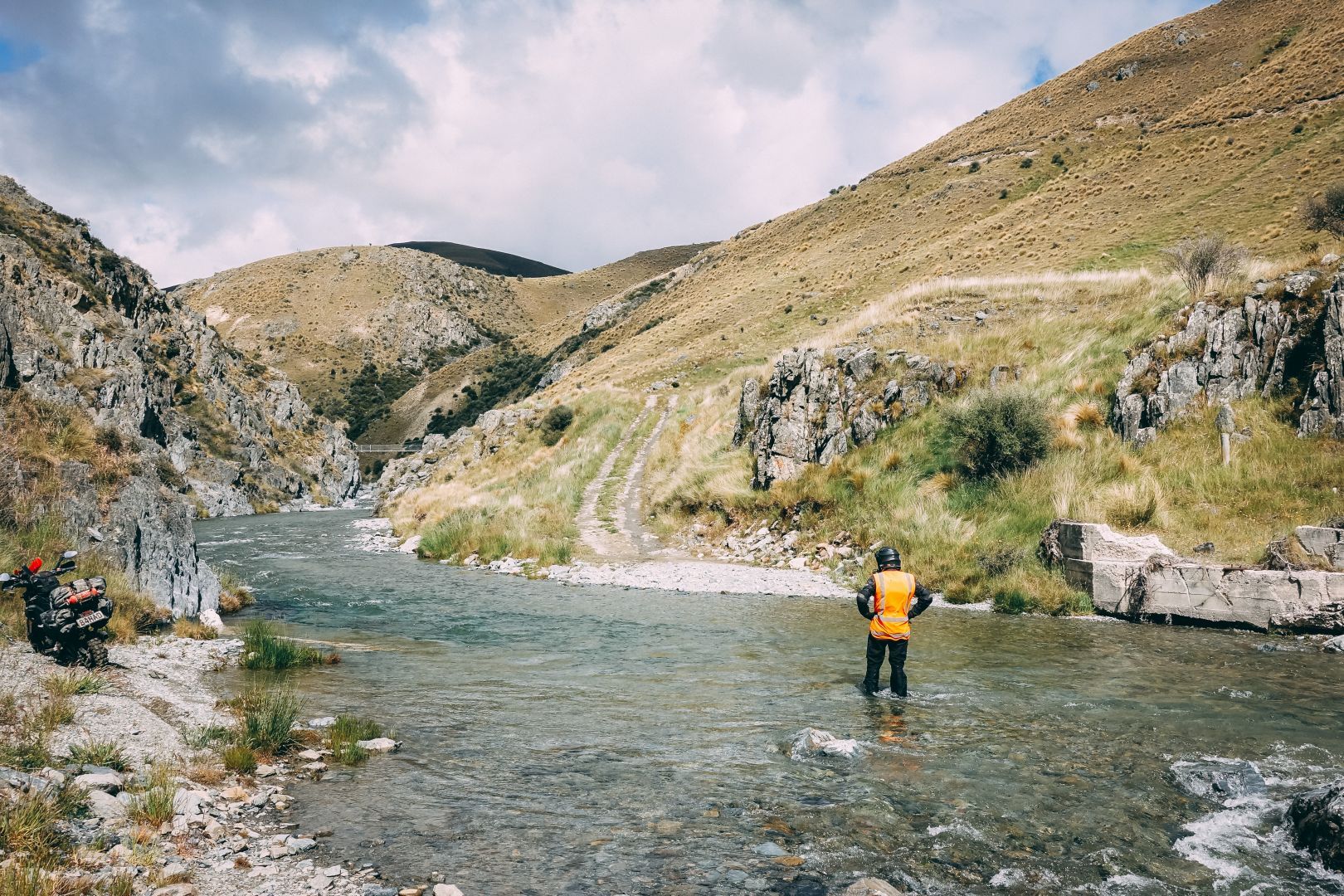 On the other side of the river, Simon checked his oil. It was a watery white mess. Not good. The ignition wouldn't even turn on initially but we gave it a few minutes and the grom started right up. Not much of a choice from here, we could either try going back the way we had come, across multiple streams or carry on, which seemed the shortest way back to Ranfurly. We chose to head-on.
First, we had to get my bike across the river though. We took the luggage and phone off of mine before Simon walked it across, with me helping to support it and stop it getting pushed over. Still had to do a bit of pushing and shoving to get it over some sneaky underwater rocks, but it wasn't too hard. We spent some time having an early lunch on the river bank and wringing out our socks.
Steep switchbacks led us out of the river valley and we finally reached the Ida Railway Hut, a backcountry hut managed by the Department of Conservation (DoC). If it had been later in the day it would have made an excellent overnight stay. Clean and tidy, bunks with mattresses and a wood-burning stove.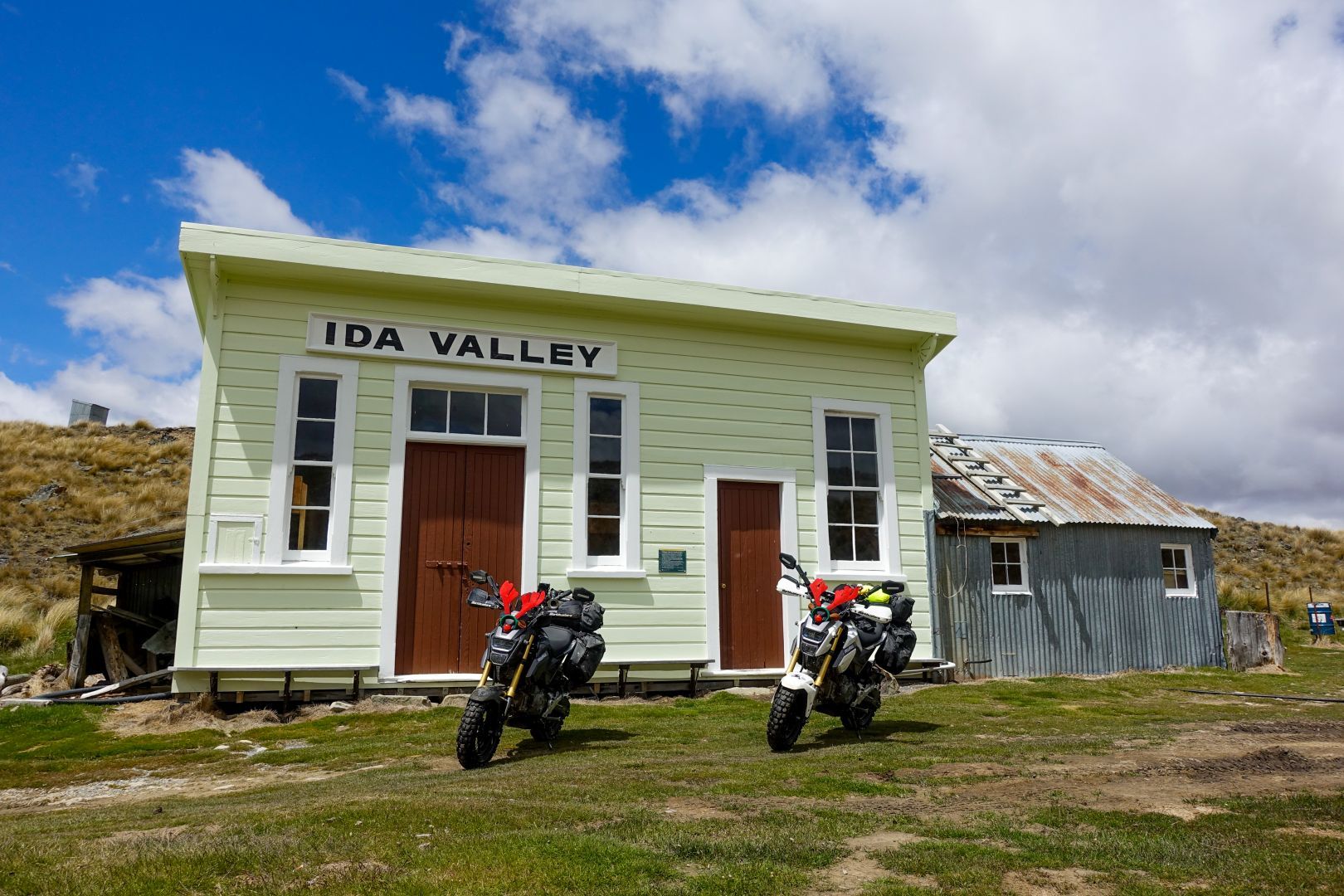 Then came the rocks, the loose thick stuff on top of more loose rock. It was challenging when it was flat, but as soon as the grade increased and you were forced to keep up your momentum, it became something completely detestable. It felt like you were barely in control, the front wheel bouncing around and finding it's own route while you encourage it to not hit anything too big. It was exhausting.
We were too pooped to even notice we had reached the top of our ascent, just glad we were finally descending to what we hoped would be some easier tracks. Parts of the descent was so steep and loose that at times we had to resort to a combination of braking and semi sliding/paddling. It was terrifying. One wrong move and the bikes would have been over the edge into oblivion.It was like scree running with bikes.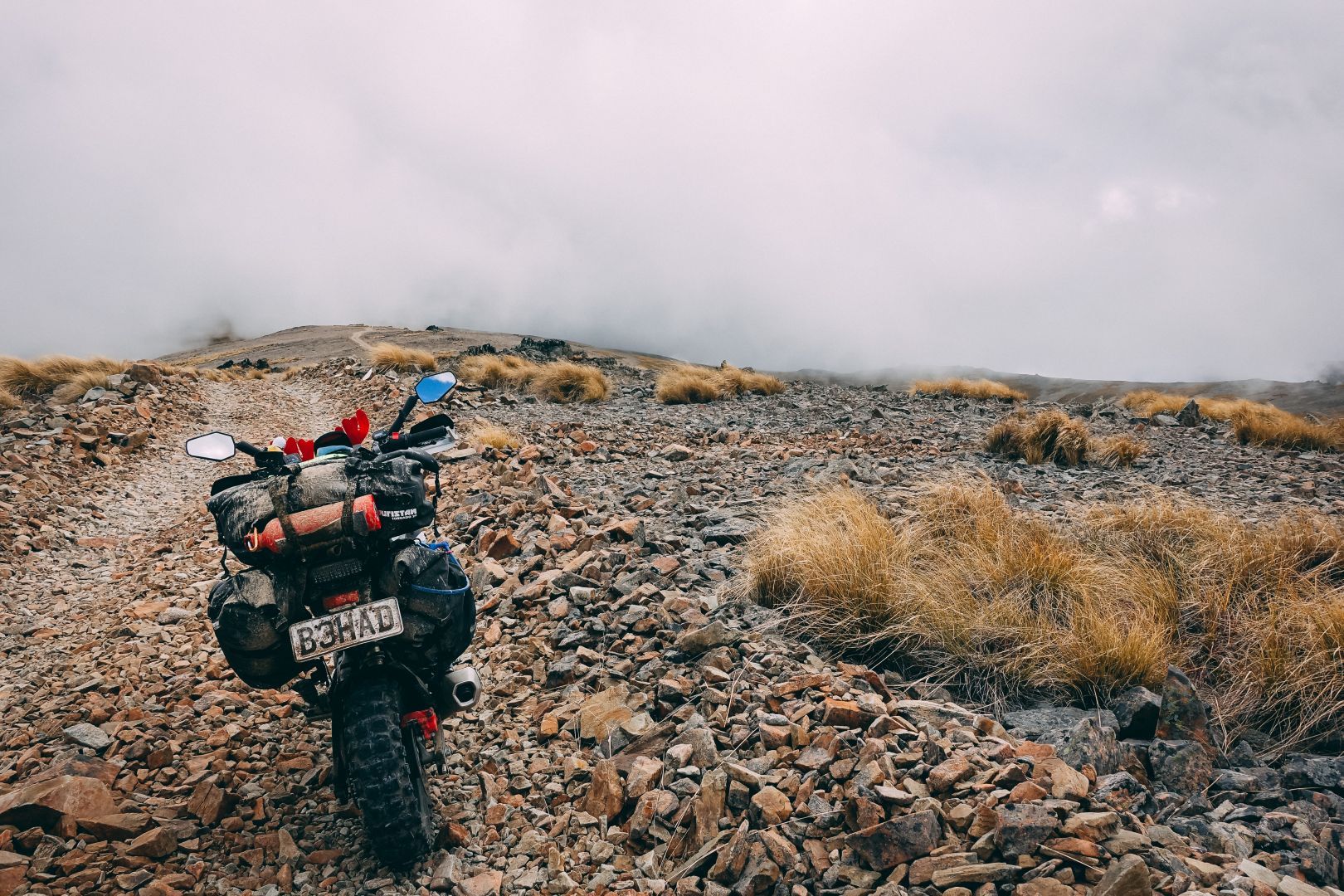 We were mentally and physically exhausted by the time we reached Ranfurly. At the local petrol station, we stocked up on a couple of litres of oil to deal with the aftermath of the Otematata incident. When I mentioned to the bloke at the till that we had drowned a bike in the river I was told we weren't the first and certainly wouldn't be the last.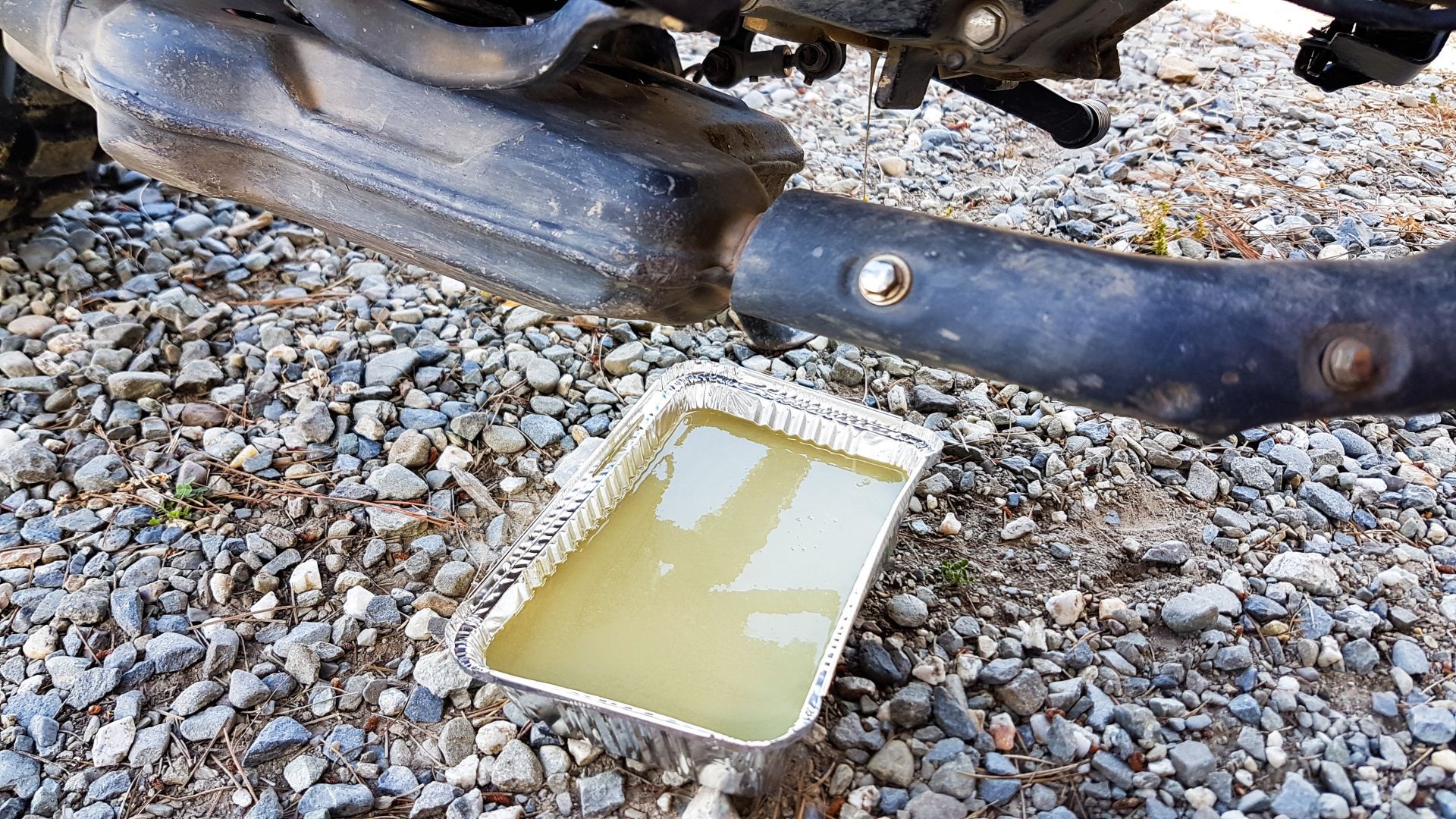 Simon spent a good wee while flushing and filling oil at our campsite. I had to pop back out for more oil as it took three flushes to finally get something that was mostly oil draining out.
This little loop we did today has been the most challenging thing we have ever attempted on the Groms. It almost kicked our buts completely and could easily have turned out poorly for us but we are glad we did it anyway. It is an adventure after all. Less challenging stuff in store for us tomorrow we hope.
---
Distance:
113.47 km
Max Alt:
1636 m
Min Alt:
434 m
Climb:
2300 m
Descent:
-2295 m
Avg Speed:
27.82 km/h
Time:
06:56:03
---
---