10 Aug

TAT DAY 10: Deals Gap TN to Ducktown TN (243km/151mi)

Whooowee what a day!

We squeezed in a quick run up and down the tail of the dragon before buying the obligatory tee shirt. Just as we were about to leave it started pissing it down. We let it ease up a bit then headed off. The rain did not stop. We skipped the bits of dirt road and opted for riding the Cherohala Skyline. It was on our to do list. The views are supposed to be wonderful, unfortunately it rained on us all the way to Tellico Plains, so all we saw was rain and mist the entire way. It was not the pleasant scenic ride we had hoped for but on the up side having to concentrate on the road so hard took our minds off of how itchy we were. Something seems to have feasted on us in the last few days. We suspect bed bugs, but can't be certain.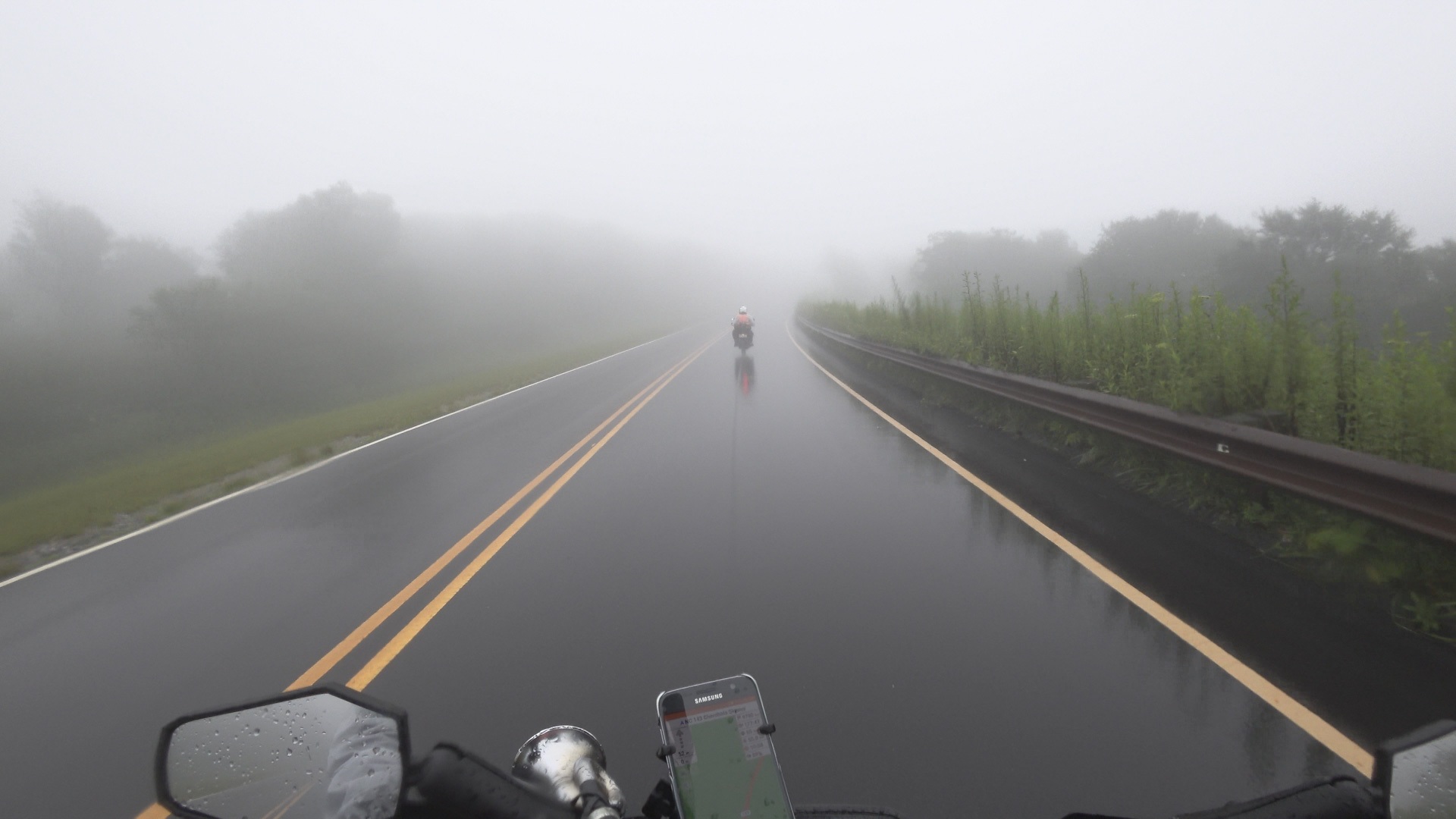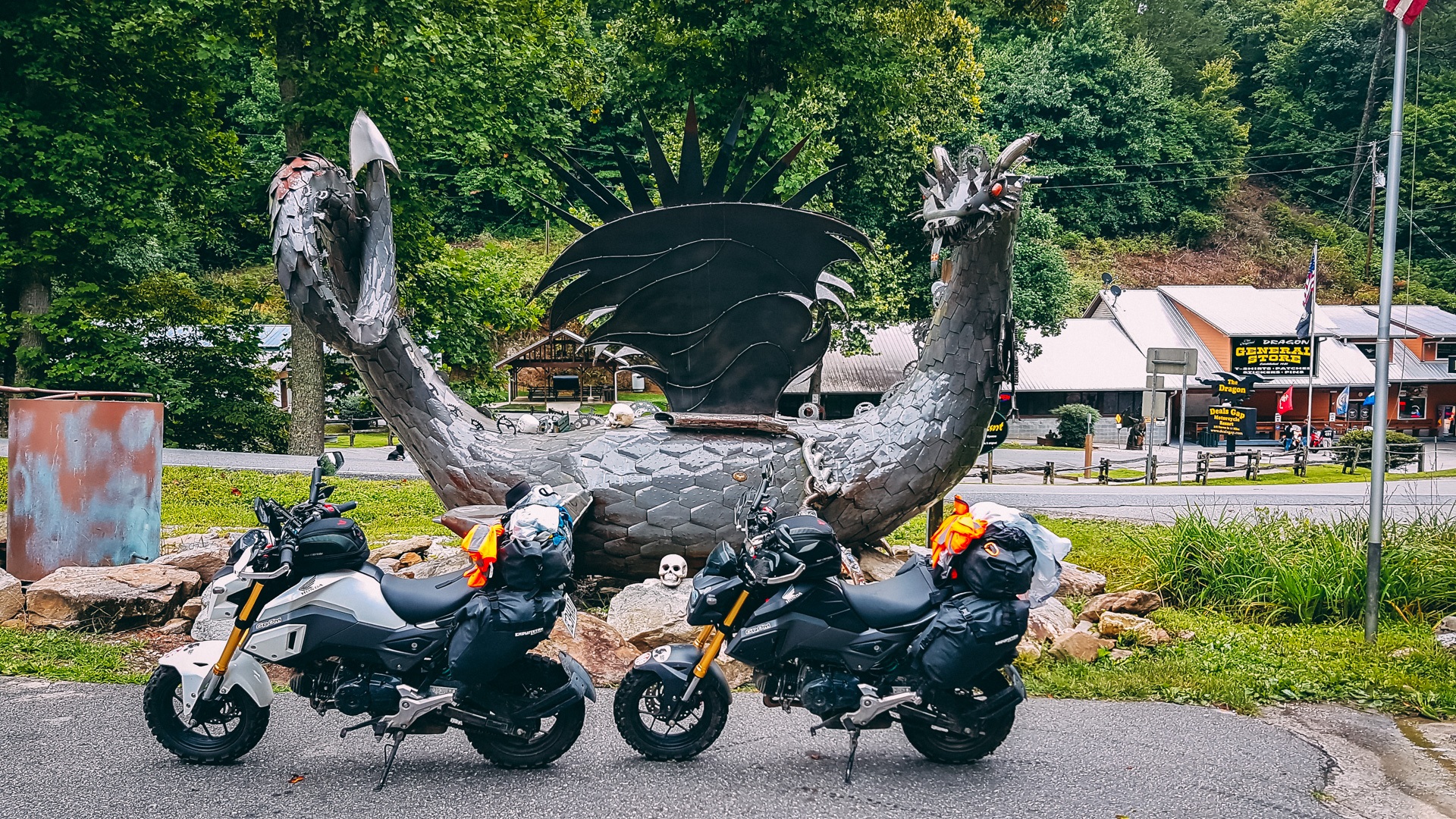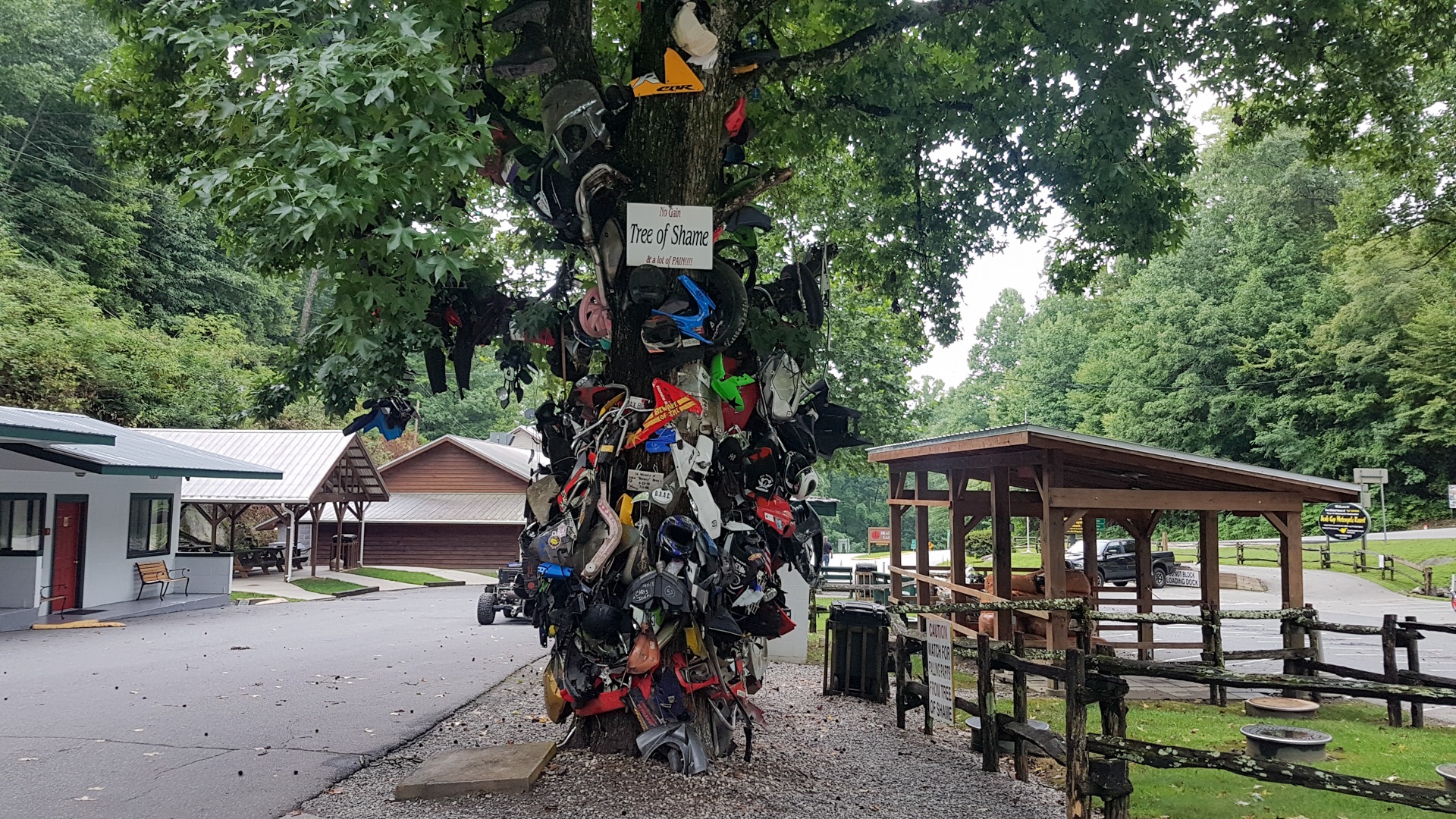 Tellico Plains is the original start of the TAT. Quite rocky on the first bit of dirt road and then the infamous slippery crossing on Wills Road. I'm sorry to say Sim made it look easy

of course it helps when both feet are able to touch the ground. I almost lost it as those rocks are indeed very slippery.
We had hoped to reach Thunder Rock campsite NW of Ducktown , but then disaster struck. On a particular rocky section somewhere in the forest, Sim though his bike felt funny. It was all soft and springy in the rear. We stopped to check it out and we think the Racing Bros rear shock has blown. All rebound and compression adjustment have been lost. We adjusted the spring and the bike is rideable, but pretty bouncy and loses traction because of it. We figured we would head straight for Ducktown, get a motel and figure out our next move.
Of course when things go wrong, they come in pairs. Seriously not 10 minutes later, our path was blocked by a downed tree. Three large branches so no lifting the bikes over them. Our Open Street Maps GPS app showed another road leading down to the main road. OK cool we will just follow that. Turns out it was not a well used road at all. Huge rut on the right, steep bank on the left,very overgrown. We weren't even sure it was the correct road. So I went for a recce, for what felt like hundreds of meters but was probably only about 200m down this overgrown track (the other track that forked off had a huge spider in a web across it, so I let Sim check that one out). It looked passable, but there was no certainty as to what might be further down it. We were only about 2km from the main road and all other alternatives would have meant a serious backtrack or detour along another unknown road.
We signed up for adventure and adventure is what we got. It was a little bit gnarly but the adventure groms made it. We were quite relieved to hit the main road.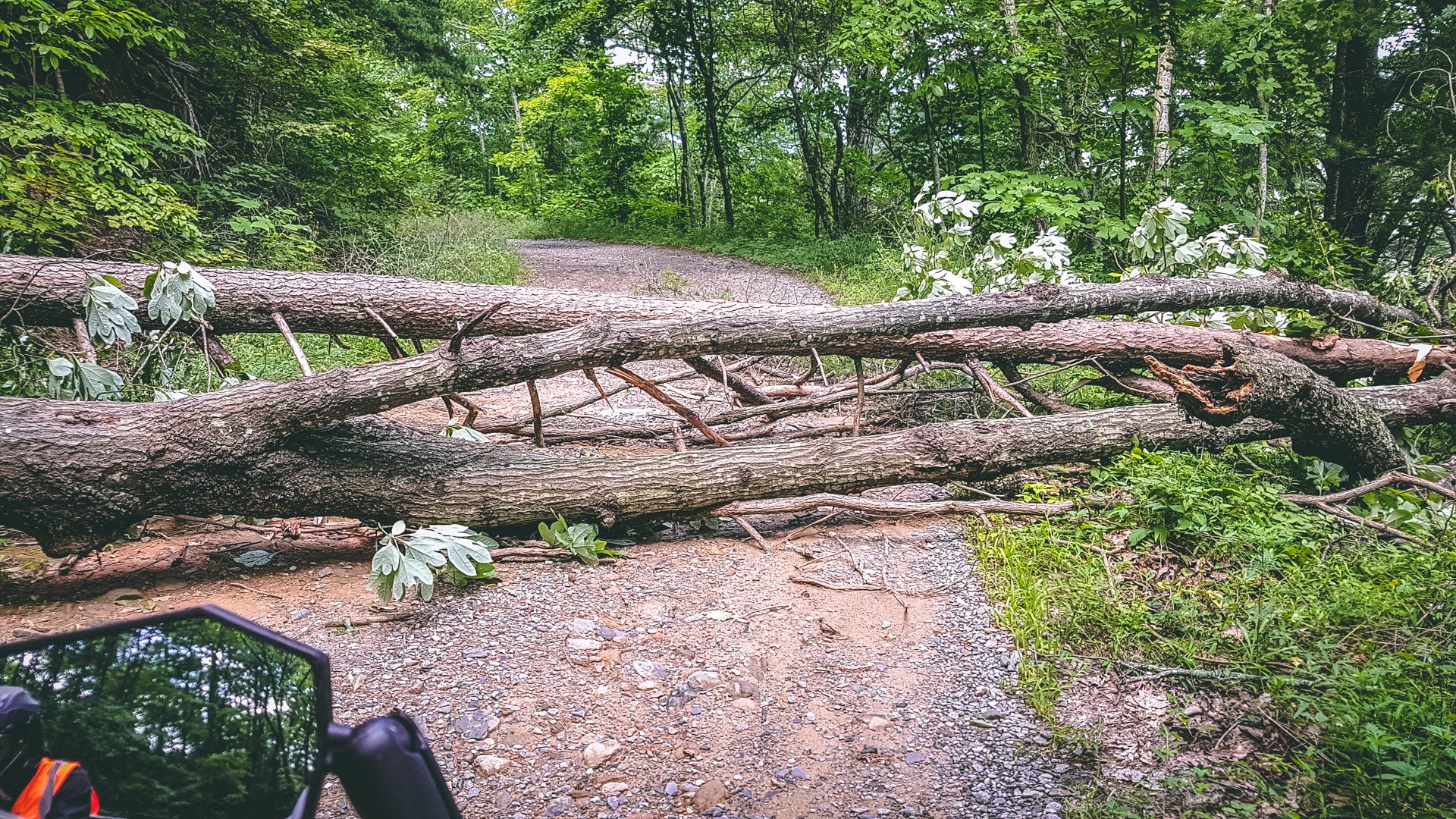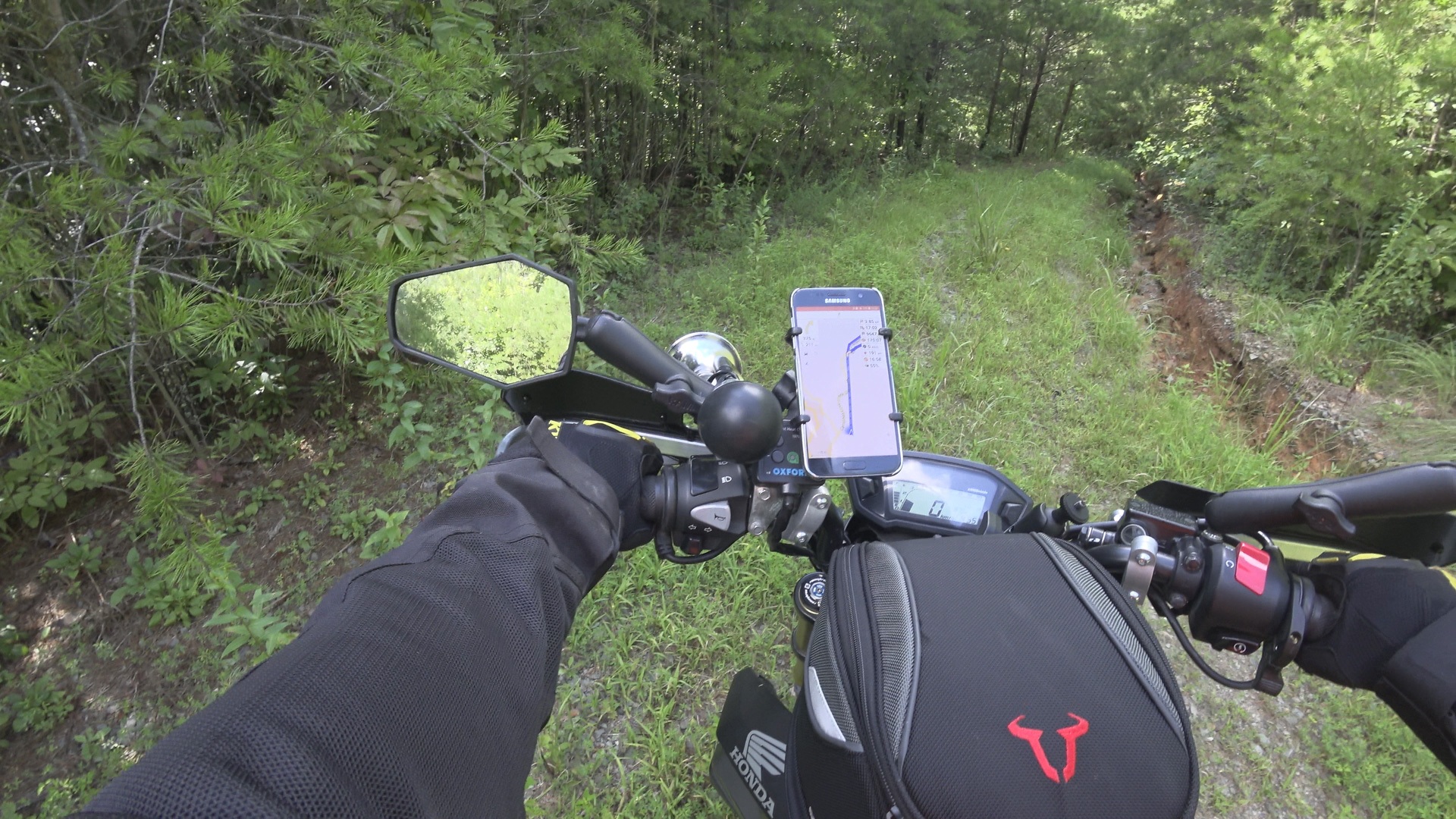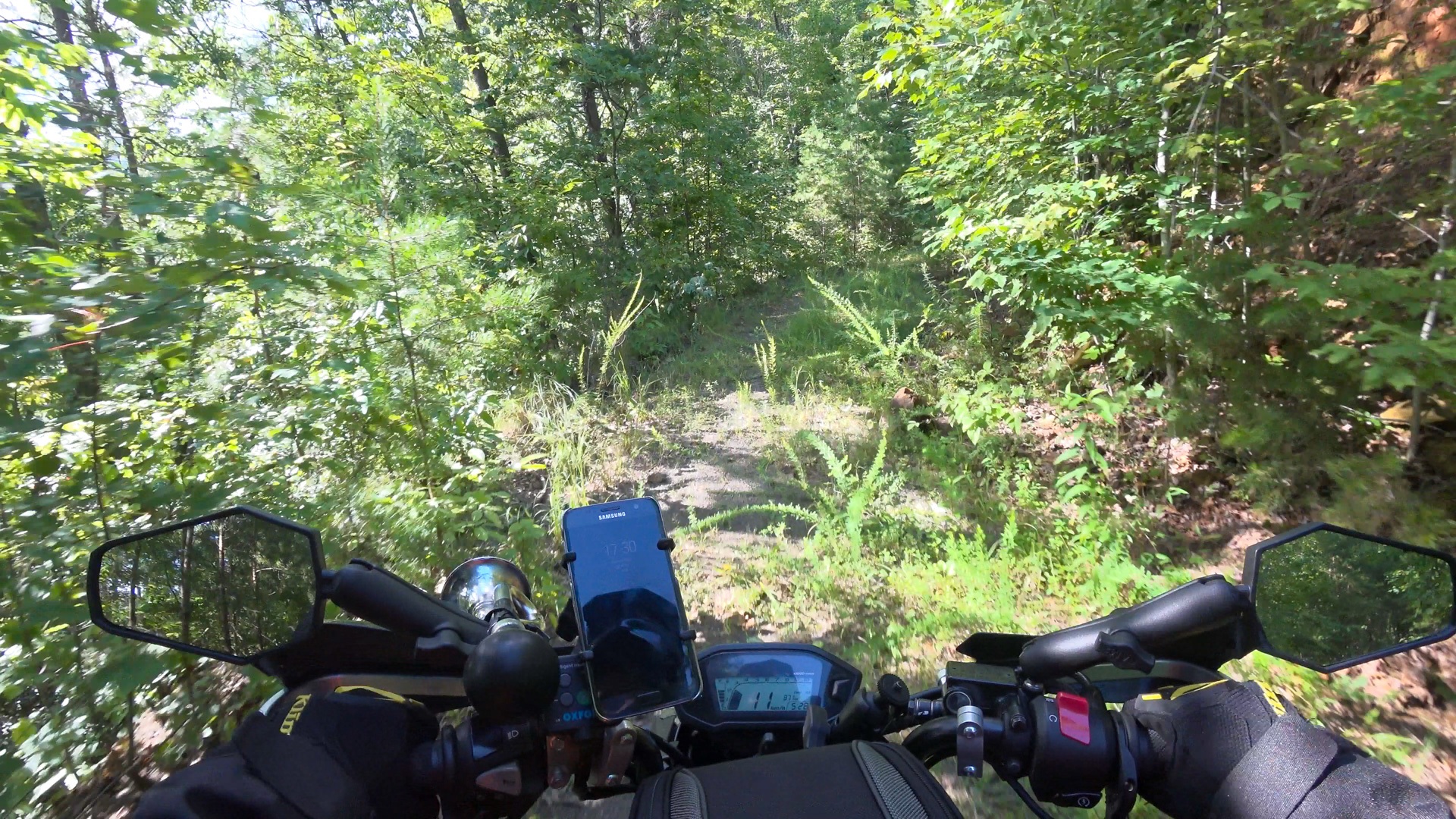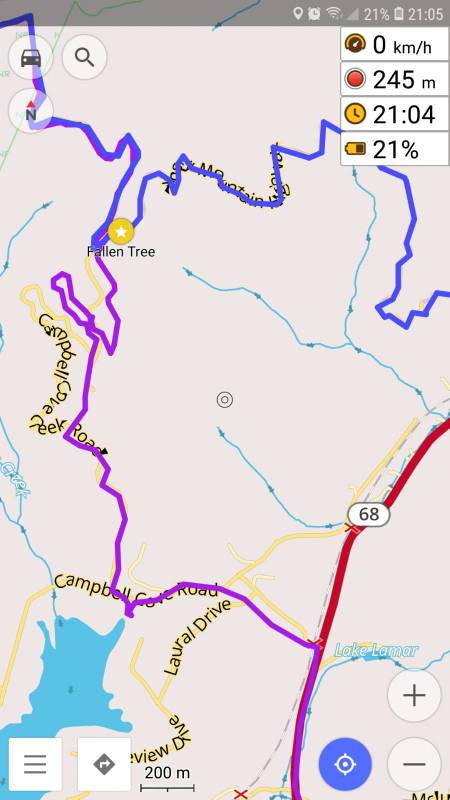 We are now at a motel in Ducktown (a quacking good town by the way). The kids have been washed, lubed and tucked into bed. We are considering our next move. We think we will carry on as is and try ordering a new OEM shock and ship it to somewhere along the trail. Huntsville was going to be a side track rest day/ space stuff sightseeing/ oil change day, so we might look at getting in touch with a motorcycle shop there if there is one or get some tools and try doing ourselves.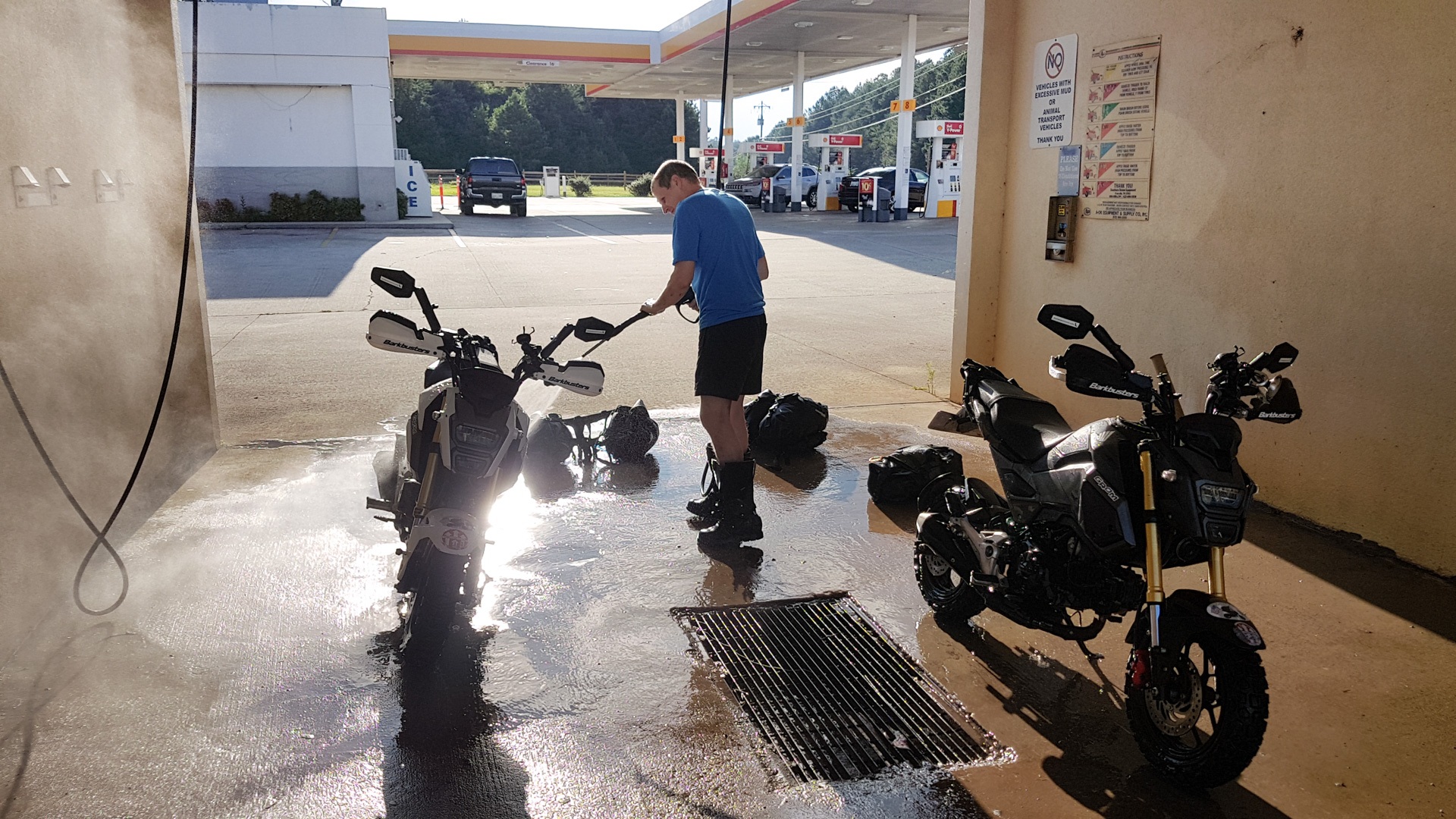 Update on Sims bruise. Wow it is impressive.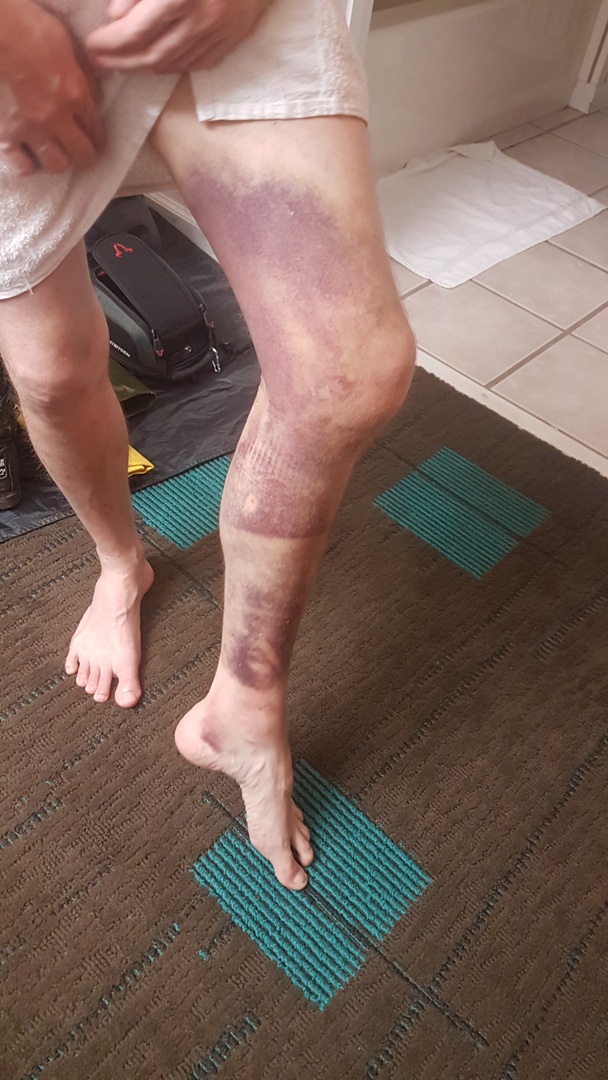 View this post and comments on ADV Rider

---
Distance:
238.33 km
Max Alt:
1632 m
Min Alt:
222 m
Climb:
5161 m
Descent:
-5190 m
Avg Speed:
42.51 km/h
Time:
10:49:49
---