09 Aug

TAT DAY 9: Delwood NC to Deals Gap NC (272km/169mi)

Oh boy am I in the dog box. More about that later.

Good start to the day, unfortunately too early for the motorcycle museum. We pootled up the road taking tourist photos at the indian tiki and the " most photographed view in the world". A brief foray onto the Blue Ridge Parkway, (where we saw a huge elk? And his missus round the corner) then onto a one way dirt road for 60km that spits you out about 10km from where you left the main road.

Definitely a higher percentage of dirt today compared to previous days. Lots of tight winding dirt that is slow going but fun.

Thomas Valley road bridge across the Tuckasegee river was closed for repairs so we had to do a bit of interstate riding. It's fine when its dry and there isn't much traffic. Not scary at all.

More dirt, with some more winding back roads. Weather cooperated most of the day, though was quite chilly in the morning. When we came to Old River Road we had our first downed tree across the road. Luckily it left a convenient grom sized gap beneath it. The next tree was not so considerate. We had to manhandle the bikes over the fallen tree.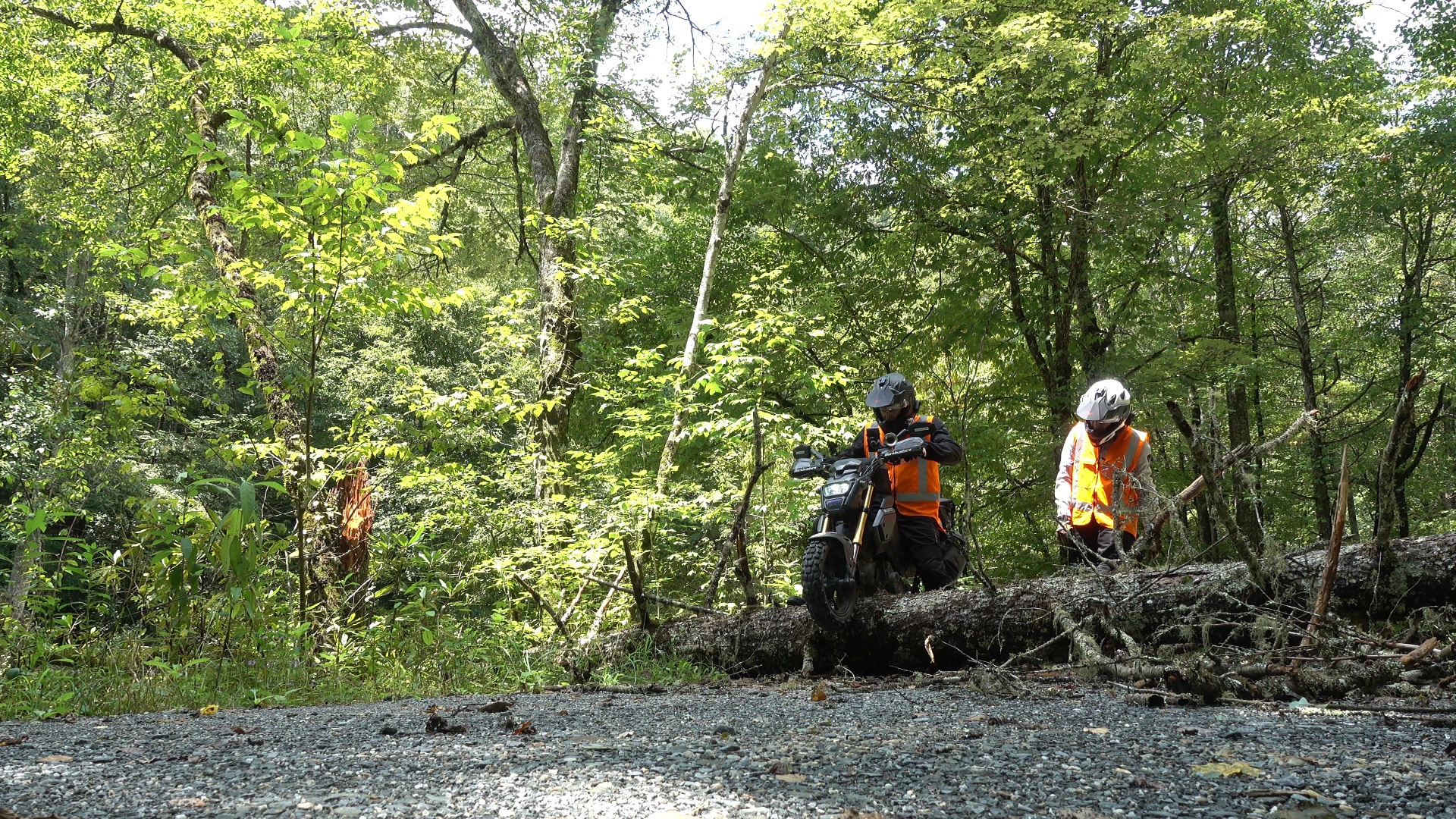 When we filled up at Valley River a local who was shirtless, covered in tats and sporting a gun on his hip wandered over to us. We were both relieved when he told us he also rides motorbikes and just wanted to chat.
We detoured from the TAT to get to Deals Gap as Tail of The Dragon is on our to do list. We decided to camp before we did the tail and this is where it all went wrong. Sim was smart enough to start putting up the tarp. Me in a rather dumb attempt to help started to put up the tent instead of helping with the tarp, then the heavens opened up and it absolutely bucketed down. We got soaked, our tent got soaked, the tarp channeled a river of water directly onto my head and onto my bike that was being used to hold one corner of the tarp. The campsite turned to a lake.Camping was no longer an option. Sim dashed to reception and managed to get the last available room. Whew!
We spent ages wiping down and trying to dry our gear. Finally we thought we were organised enough that we could go get some dinner. Nope. The restaurant closes at 6. WTF! Fortunately the group of Harley riders in the room next door offered us beer and we got to chat with them for a while. Forgot to take some pics of our groms next to the big boy bikes.
View this post and comments on ADV Rider

---
Distance:
271.84 km
Max Alt:
1633 m
Min Alt:
354 m
Climb:
5138 m
Descent:
-5475 m
Avg Speed:
41.56 km/h
Time:
09:11:17
---