08 Aug

TAT DAY 8: Bakersville TN to Delwood NC (310km/193mi)

Bigfoot 0,

Back on the road again after a bit of a sleep in and a southern breakfast of eggs and grits. A stop at Walmart for some supplies and we only really got going just before 12.

Fun little memory. While we were in the Walmart parking lot a couple pulled up in a car next to us. The husband was joking with his wife about how she was wanting to flirt with the bikers. When she realized it wasn't two guys, she squealed out excitedly "oooh its a girl". It made us all laugh out loud.

We hit the Blue Ridge Parkway and enjoyed the novelty of actual viewpoints with views of the hills. One thing we have noticed about the MABDR and the TAT is that the forest is pretty thick along the little back roads and forest roads and there are very few opportunities to see much of the landscape.

The TAT does 2 little loops off of the parkway, but we elected to stay on the parkway until the TAT left it proper. The BRP was one of the roads we have been looking forward to. As the elevation climbed, the temperature dropped rapidly and we had to put our rainjackets and heated grips on.
There was a closed gate at the start of Stoney Fork Road. It wasn't locked, so we took this to mean we could go though. Quite a few little washouts but nothing serious and it was a pleasant road
We missed quite a lot of turn offs today. A lot more than usual so we spent a fair bit of time performing u turns.
We detoured to Trust to fill up and hit our first patch of rain. It didn't last long. Lots of guys on Harleys parked at the cafe. Sim made them laugh when we left by honking his hooter. He has a little clown hooter the one with a rubber bulb that goes honka honka. It makes everyone smile when he honks it.
Shortly after Trust, we encountered our first proper thunder storm. The wind picked up and there was thunder and lightning. We pulled over to put our rain gear on and as we did so a huge branch came crashing down not half a meter where Sim stopped. Scary stuff. We put rain gear on and debated what to do. We rode on very carefully. Found a little shelter near some gated communities post boxes and hid under that for a while till the wind died down and the thunder passed.
The rain never really stopped the rest of the day. We headed toward Cataloochee campsite but when we got there it turns out you need a reservation. By this time we must have done around 60km of gravel in the drizzle. Our gloves were soaked and we reckoned a night in motel with a hot shower was more to our liking anyway.
We have had to chop of the 30km section of TAT between Jonathan and Maggie Valley, but when its 8pm and you are getting cold and tired, you just wanna go down a straight fast road to get to warmth and food.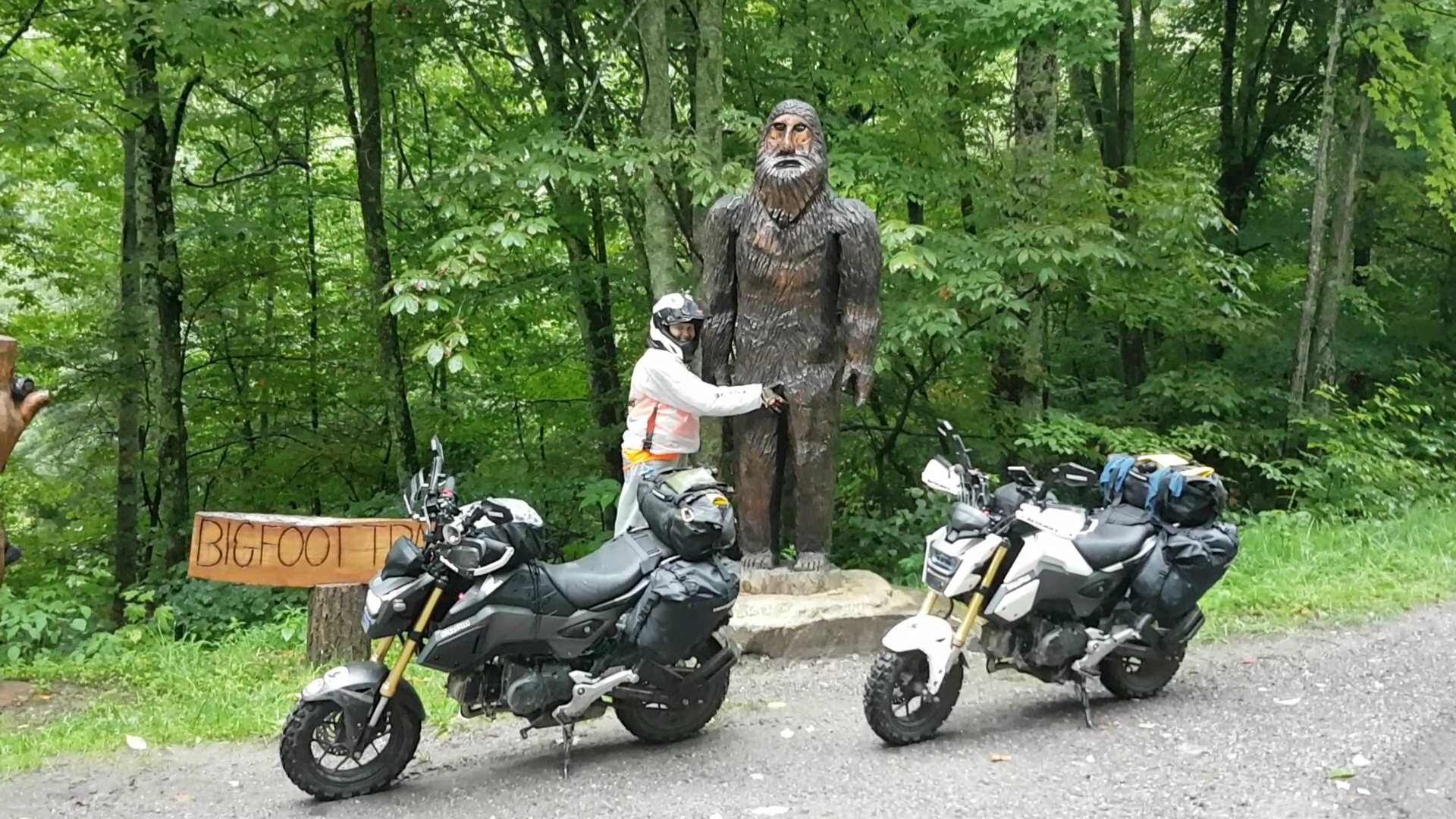 View this post and comments on ADV Rider

---
Distance:
311.46 km
Max Alt:
1731 m
Min Alt:
480 m
Climb:
5870 m
Descent:
-6018 m
Avg Speed:
43.73 km/h
Time:
10:59:28
---