14 Sep

TAT DAY 45: Skull Creek Campsite OR to Port Orford OR (148km/92mi)

Woohooo!!!!! We made it.

We are elated, knackered, sad, happy and relieved all at the same time.

The tent fly this morning was covered in ash, which goes to show how much of it must be in the air around these parts. We took our time packing up knowing it was the last time packing our saddle bags. It was a weird feeling getting on the Groms this morning knowing it was going to be our last day on the Trail. We were both excited knowing that our goal was a short ride away and a little nervous. What if something were to go wrong this close to the finish – like for Sim to have his first puncture ? 🙂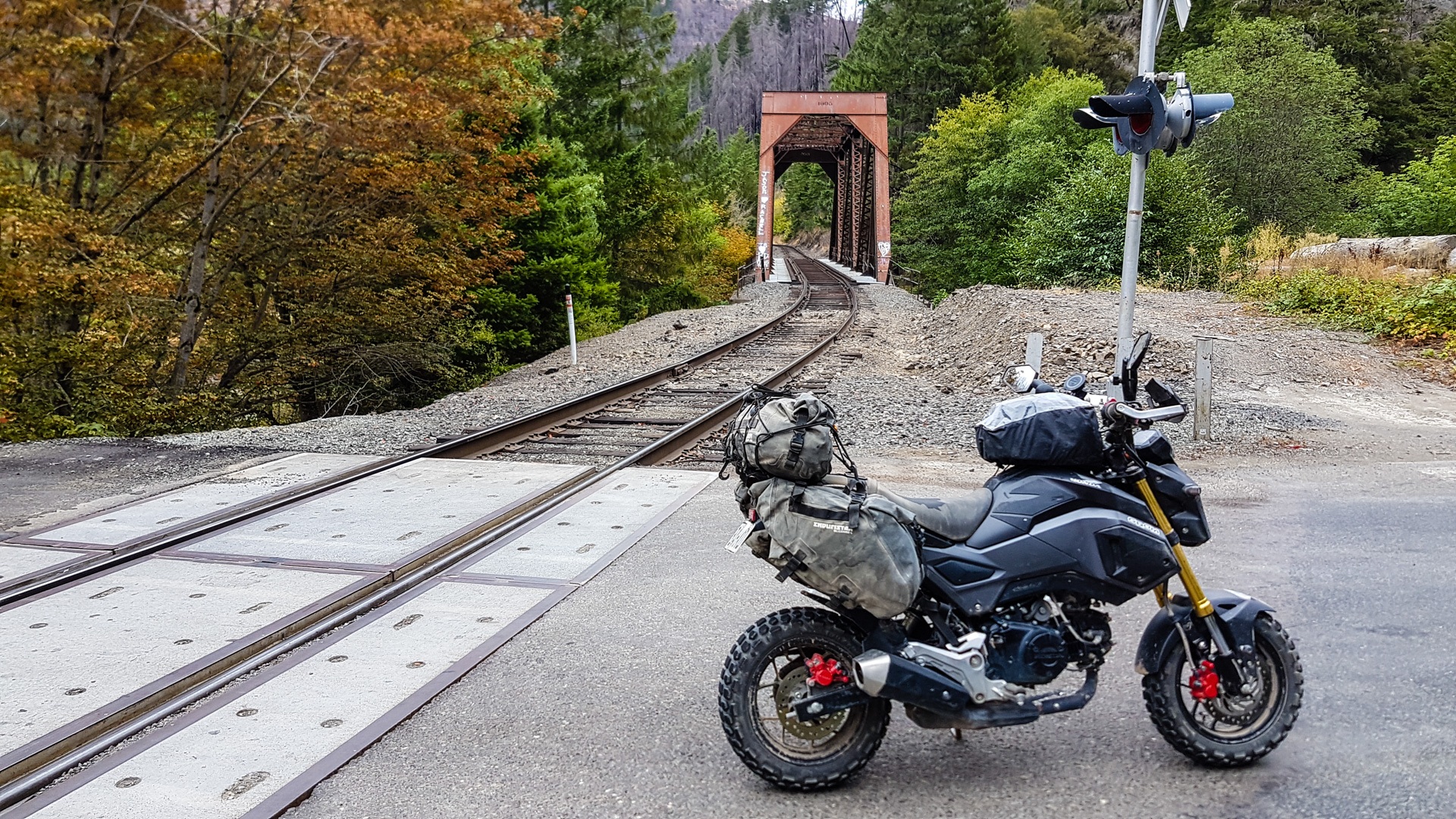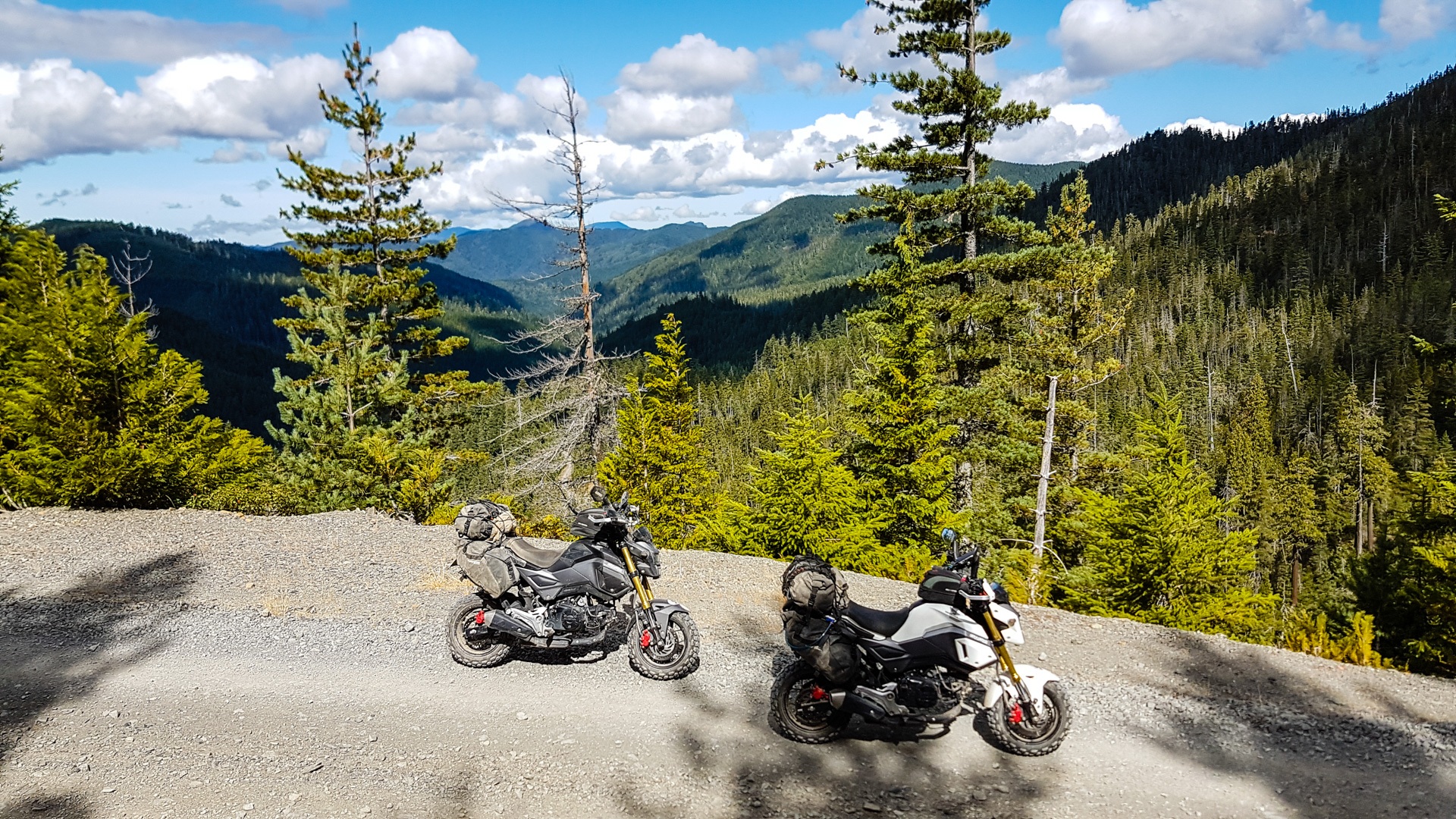 The trail through the forests was easy but it seemed to take longer than it should have. We arrived at Port Orford around 1:30 ish and chose to finish our ride on the beach at Battle Rock rather than where Sam ends his trail further north. Battle Rock just sounds cooler.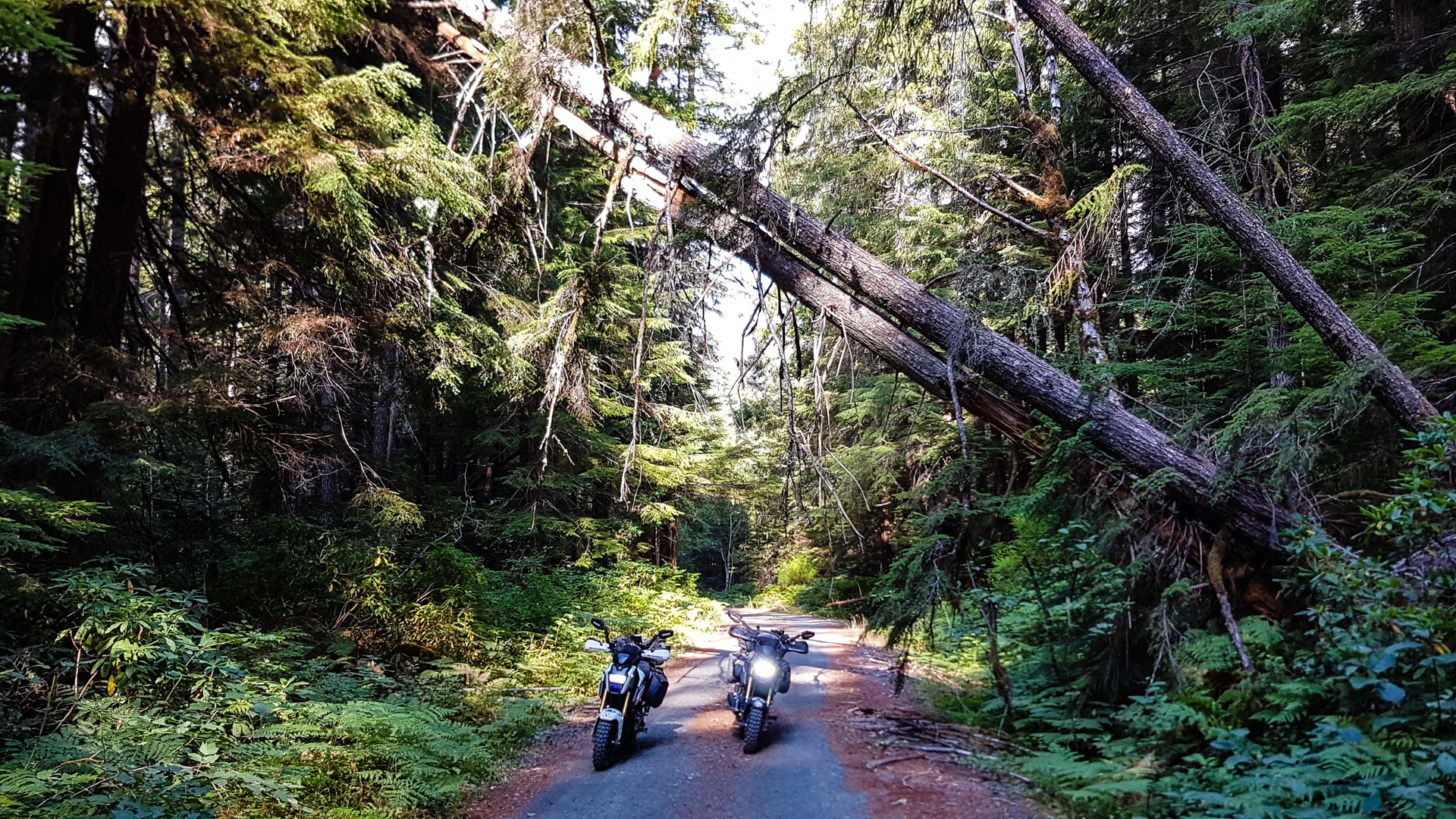 It was incredibly foggy when we arrived which made for quite an atmospheric ending. We parked our bikes on the sand just out of reach of the waves and took some photos and congratulated ourselves. As the tide came in, the waves started lapping at our rear tyres. Sim had got the drone out for a couple of shots while I eyed the water nervously. He had the drone set up for a shot of us riding off the beach. Off he went, but of course, I hesitated and was one wave too late and got bogged down in the wet sand. Our epic shot of leaving the beach turned into a comic one of Sim having to run back and help me get unstuck 🙂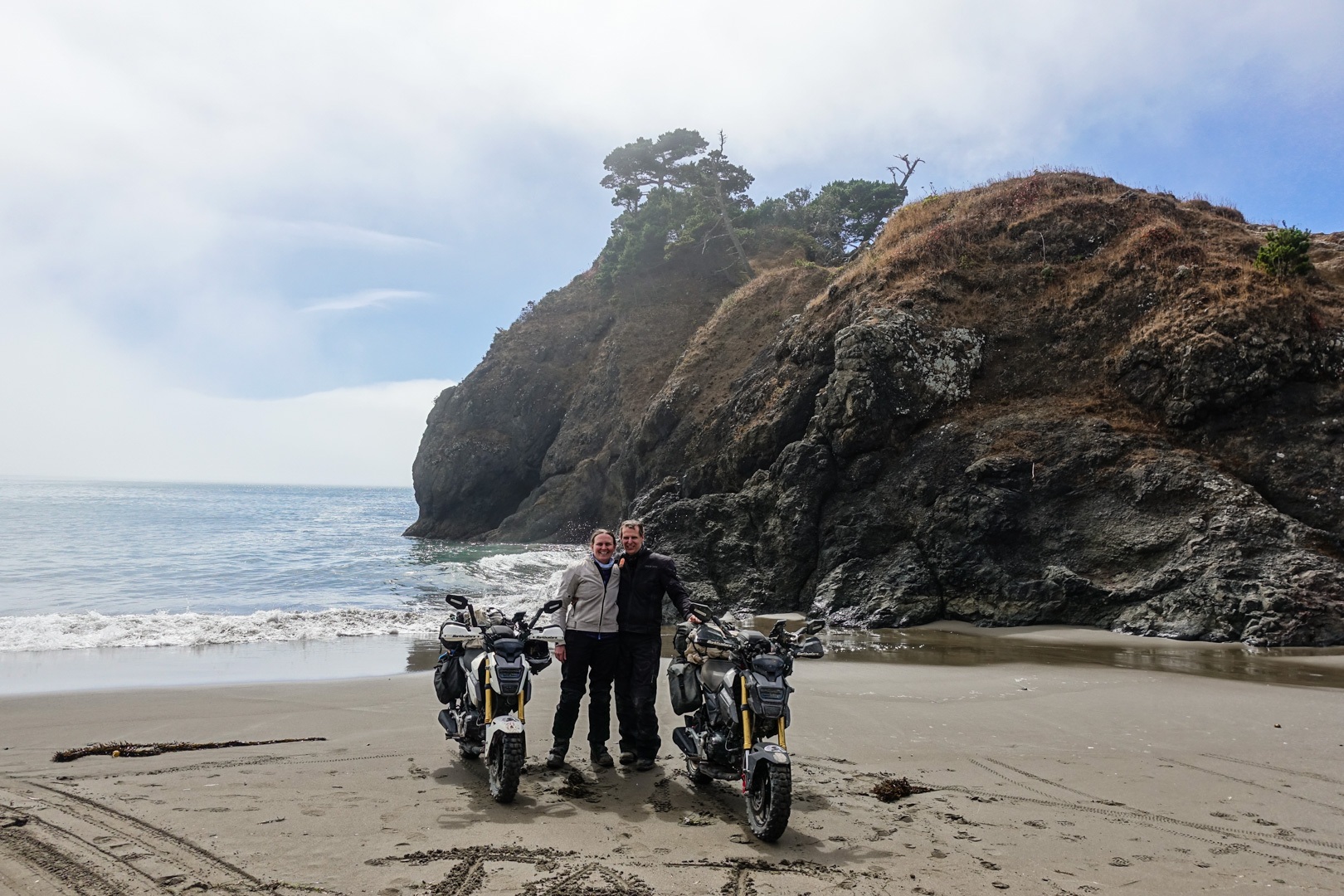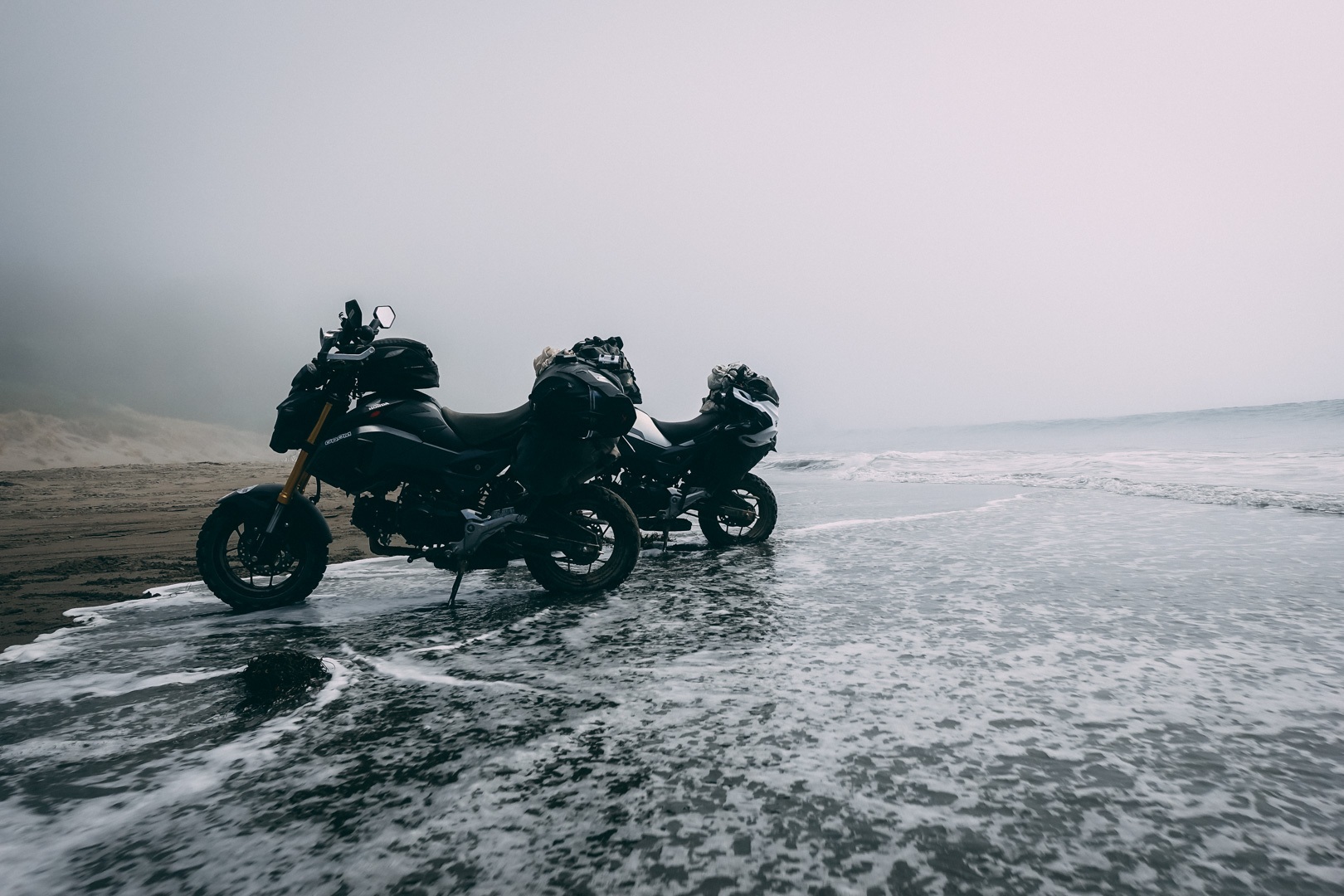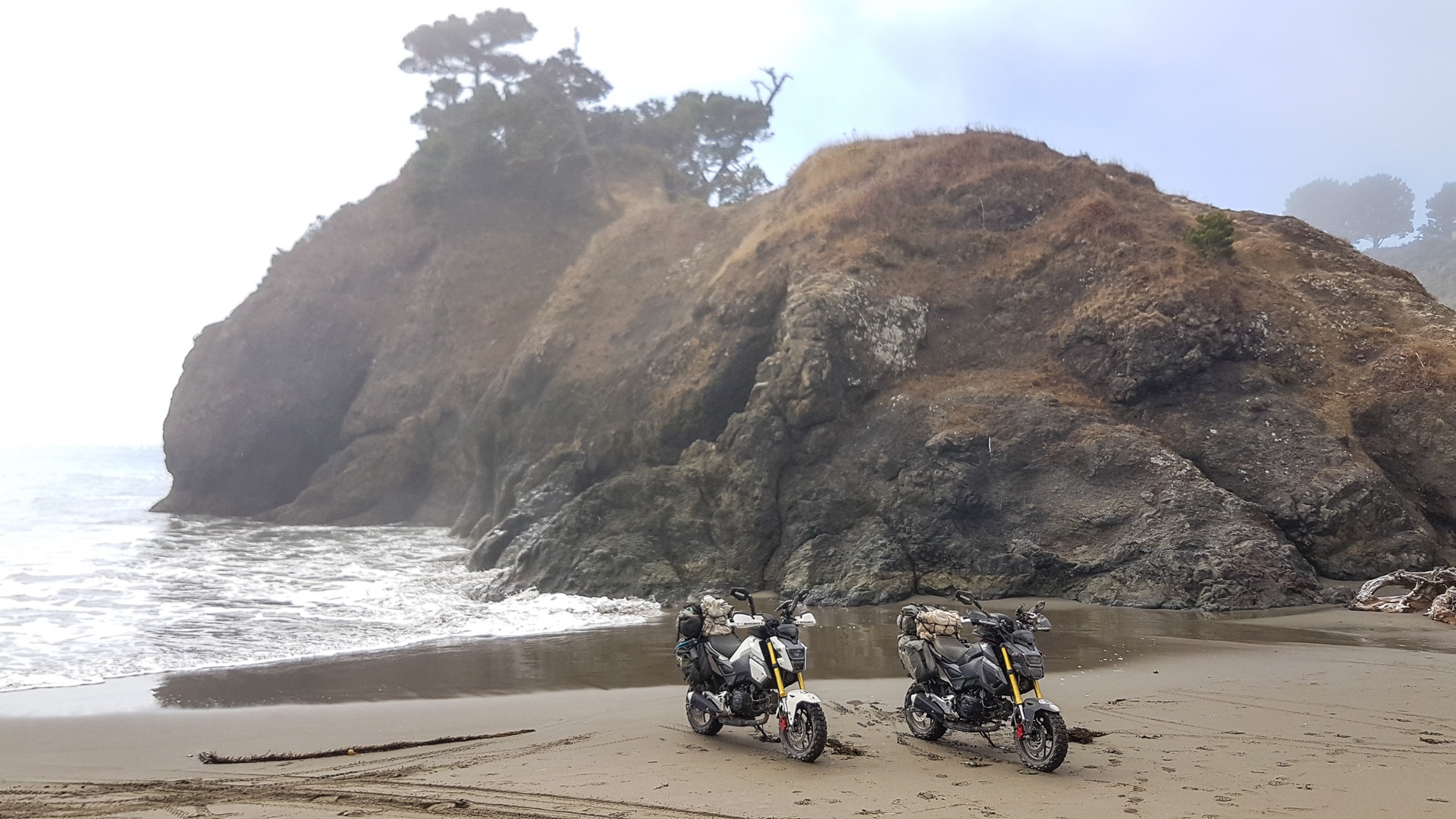 We have decided that the end of the TAT is a more fitting finish to our epic ride than the shipping agent in LA. Whilst we are sure that the ride down the 101 would be lovely, we think it would be a little anticlimactic after the TAT and also, we feel like we are done. Maybe on the next trip… on Goldwings 😉
We have rented a UHaul (like in every TV show) and will be driving the Groms down to LA over the course of a couple of days. We will swing by Steady Garage to pick up our replacement shock and will put them on the Groms before dropping them off at Kiwi Shipping. No crate needed. Then we have a long flight home back to reality.
We have the weekend in Port Orford to chill out and wash all our gear and the bikes (although that might be difficult since the local car wash is out of action). We are only picking up the UHaul on Monday and are planning to post off some stickers to a couple of people that have requested them. If anyone else would like one, please shoot us a PM with your postal address. We have 10 left.
This has been such an incredible adventure for us. We secretly feared that we would not make it all the way and had visions of having to give up earlier, but with the help of good weather, good people, perseverance and plain dumb luck, we made it. Oh and we had the most awesome bikes Honda has ever made. They have taken a bit of a beating, but they just kept going. Mechanically solid, only the aftermarket add ons failed. We love these little bikes and have promised to make them shiny again when they get home.
We have seen a completely different side of the USA than what many tourists will ever see. We have encountered nothing but kindness and hospitality along the way (except that one dude who flipped us off while overtaking us somewhere near Craters of the Moon…screw that guy).
Although this is the end of the ride, it won't be the end of the report. We will post a few follow up posts detailing gear we loved, stuff we never used, shipping detail, things we regretted, and probably a bunch of stats once we have had a chance to look at the GPS logs. Sim has heaps of video which will take quite some time to go through and edit into something coherent. We will post them onto the end of this report as they come through (it may be a few months though).
Thank you all for following along with our big adventure on our little bikes. We never thought so many people would be interested in our trip and we are gratefull for the support from the adv community. If any of you ever find yourself visiting the South Island of New Zealand, hit us up, we have a spare room and an awesome pair of groms you can ride 🙂

View this post and comments on ADV Rider

---
Distance:
154.73 km
Max Alt:
1116 m
Min Alt:
7 m
Climb:
3179 m
Descent:
-3588 m
Avg Speed:
40.62 km/h
Time:
05:01:39
---
---